Itanagar
Itanagar- V K Singh Inaugurates Passport Seva Kendra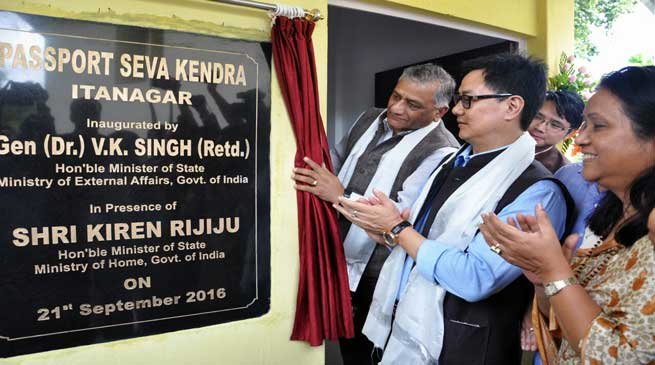 Itanagar
The motive of the central Govt. is to take the public service and the  Govt facilities to the doorsteps of the people. With this intention Passport Seva Kendra has been established in Itanagar, said Gen(Dr.) V. K. Singh (Rtd), Minister of State for External Affair, Govt. of India. He was speaking on the occasion of inauguration of Passport Seva Kendra, Itanagar in presence of Khiren Rijiju, MoS ( Home), GOI, host of Ministers and officers of the state Govt.
This will enable the people of the state for easy access and save time and money for obtaining  passport. It has been made easy and transparent with online application and reducing verification etc. informed Singh. Efforts are on to establish such kendras in each Head Post offices in the districts so that people can avail this more easily. Also when all the criminal records are made online and amalgamated, the time period for verification will come down drastically and passport will be made available within very short time added the Minister. Since passport is required commonly, he welcomed suggestions, co-operations and help from all quarters for improving the service. He assured that numbers of appointment will be increased as per needs.
Khiren Rijiju, while re-iterating the commitment of the Central Govt. to bring services to the doorsteps of the people, appealed all to cooperate and help to improve them. The passport Seva Kendra is a long felt need of the state, he said. He informed that Adhar card is a multi utility card and appealed for 100% coverage so that the benefits of the \govt reaches to the needy immediately. Rijiju hoped that the state and central Govt. work as a team and streamline governance. Replying to queries about Civil terminals in the ALGs the minister informed that the matter has been taken with Air force and the Airport Authority of India. They have assured that civil terminals will be constructed wherever land is available.
Regarding road from Tawang to Vijaynagar they informed that it was conceived by the Home Ministry. It needs Inter-ministerial approval. The Defence ministry wants few re-alignments and proposal is under process. The road if constructed will be of immense help in developing the interior parts of the state, they added.They distributed passports to Mr and Mrs. Y.D. Thongchi, ex-Chief Information Commissioner on the occasion.
Earlier while welcoming all, BB kumar Regional Passport officer Gauhati informed that now only 20 appointments are given which will be raised as per requirement. It has become online and transparent and will eliminate touts and middlemen and will be beneficial for general public.