Itanagar
Arunachal:  AAPBSU gives govt 20 days to full fill their 3-point demands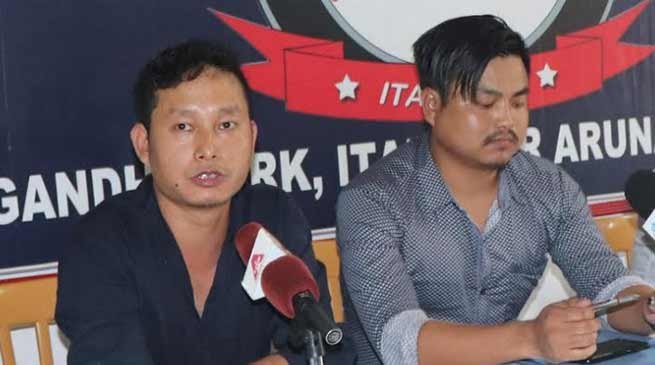 Itanagar
The All Arunachal Pradesh Border Students Union (AAPBSU) on Wednesday gave the state government a 20-day ultimatum to full fill their demand for immediate appointment of independent Director, Department of Inter-State Border Affairs and others.
The union previously had been pressing for three-point demand- for the immediate appointment of independent Director, Department of Inter-State Border Affairs with a permanent office building, and the appointment of a local advocate (Arunachalee) especially to assist in the Supreme Court to deal with Arunachal-Assam boundary dispute with Assam and Nagaland.
AAPBSU President Tana Sunny Tara  while addressing a press conference here at Arunachal Press Club today said that the immediate concurrence of 977 posts of 3rd batch of APPBn, which was administratively reformed reportedly cleared by the cabinet approved during the then Late Dorjee Khandu cabinet in 2010 which was not done during previous government is need of the hour as the Present Chief Minister Pema Khandu  is son of the former Late Dorjee Khandu may consider the same to keep the work of his father.
The union informed that AAPBSU had submitted numerous memorandum and representation to the authorities, but no initiative or serious concern was shown in the matter by the state government.
Reminiscing the Tarasso border dispute, Union stressed that the entire Northeast state except Arunachal Pradesh (AP) has adopted an Open Parliamentary policy with Independent minister Director for border affairs department for border issues. Wherein AP still to act.
Laying emphasis on the need of full-fledged border affairs department, Union state that Home Department with Joint Secretary as Additional In-charge looking after border affairs is not justified when several problems of illegal encroachment, kidnapping, extortion to militant activity run every day including law and order problems erupt which is a matter of serious concern for all.
Hence, to minimise the frequent issues erupting in the state borders, the union appealed the BJP government to create 3rd Batch APP Bn post and to find out an amicable solution on its three-point demands regarding border issues.
Meanwhile , if state govt will not full fill their demand within 20 days, then  AAPBSU leaders  have planned to organise a peace rally on July 4th next, from Akashdeep to Tennis court, IG Park, Itanagar.