Itanagar
Itanagar: HIM international School observes 2nd Annual Day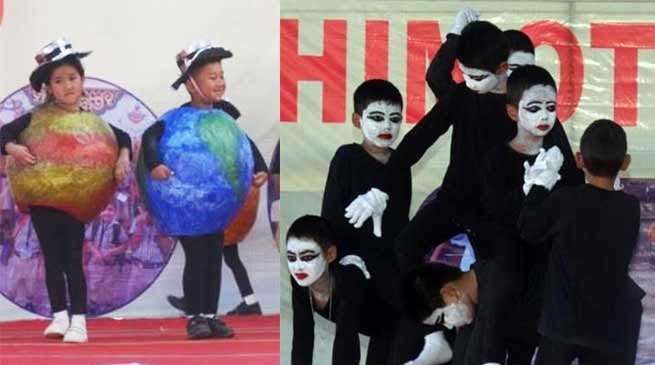 HIM International School conducted Himotsav-  the 2nd Annual Function of the school.
---
Itanagar
The HIM International School  on  22nd Dec conducted Himotsav-  the 2nd Annual Function of the school with much fervour and fanfare
The function commenced with the lighting of the lamp to invoke Goddess Saraswati in the endeavour. The students danced very beautifully and gracefully.
On this occasion students of UKG presented the Solar System. They all were dressed as the planets and the sun.  Next was a short skit on The Fourth Wise Man performed by Primary Graders. With the background of Christmas, it brought about a different flavour to the event.
A Clown dance was stagged after this which added colour and vigour to the show.  After that, a dance drama on water conservation was depicted that motivated everyone to save water if we want to lead a stress-free life.
After that a skit named ' Illusion' based on a Greek myth was stagged. All the people were in splits when a mime based on school days was presented. The rib vtickling comedy had become everyone's favorite.
The boys also won a lot of admiration for their item, The Clap dance. Without any instruments, their music touched audience hearts. Next was the Play the Grand Transformation. It was interesting way of teaching children how with practice one can become the best.
But everyone was waited with  bated breath for the grand finale, The Fusion dance. Children enthralled the audience with their well-synchronized steps the haunted music of Ganesh stuti.
Before the cultural function  the Principal Dr. Maneesh Mangal presented the School report. A short synopsis of the school's journey in the past year was presented before the audience.
The Chief Guest of the occasion was Mr. Gania Leij, Director of Secondary Education. The Guest of Honour being Mrs. M Y Gollo, Deputy Director of School Education. They were presented with bouquets by students of Primary Section. The Chairperson  Mrs. Nannu Wahge and the Chief patron Mr. Katung Wahge  had also arrived to boost the morale of the students.
The Prize distribution ceremony was conducted mid-way.  The Chief Guset praised the students for performing so well not only in academics but in co-curricular activities as well. He gave a very inspiring speech. His enthusiasm for improving the state's education system in a virtue all should imbibe and emulate.
As the function came to the end, the Vice Principal, Mr. Satish Dubey proposed a vote of thanks.