Itanagar
Govts decision to granting Citizenship to Chakma, Hajong is unfortunate and illegal- AAPSU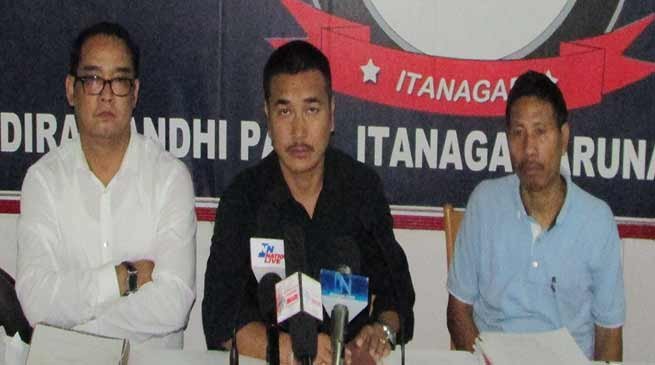 Itanagar
The decision taken by central and state government to granting Citizenship to chakma and Hajong is Unfortunate and illegal said Marto Kato the legal adviser All Arunachal Pradesh Student (AAPSU).
Highlighting the legal matter on the Chakma and Hajong, petition filed by AAPSU, the legal Adviser Kato during press conference here at Arunachal Press club today inform that after review and special review petition (SRP) filed by the AAPSU and the matter is still pending in supreme court and the supreme court is yet to give its judgment on matter. Supreme Court still not given any directive for granting citizenship to chakma and Hajong, Court just direct the central and state government to finalise the conferment of Citizenship right on eligible chakmas and hajongs.  But why the central and state government is hurry to granting the citizenship to Chakma and Hajong he question.
Further, he also said that, if the central Government really wants to give citizenship right to chakma and Hajong, than at first all the chakma and hajongs should be remove from Arunachal Pradesh. the indigenous people of State never accept Chakmas and Hajon to be a permanent resident in State.
Nabam Jollo, who is also the legal adviser of AAPSU said that some chakma and hajong had been enrolled by election commission in State and also given voting right to them, which is also illegal and wrong. If the chakma and Hajongs were yet to give citizenship right how can give them voting right he question? He also requested immediate cancelation and remove them from elector role and list.
Responding, statements of MoS Kiren Rijiju, Jollow said that there is no any written agreements done by Indira Gandhi congress government with Mujibur Rahman  government  for the permanent settlements chakma and Hajong refugee in Arunachal Pradesh.
Further, the AAPSU said that they will be judicial interference against the decision of central and state government decision.
Later AAPSU General secretary Tobom Dai, warn the both central and State government should not undermine the sentiment of tribal people.