Arunachal
Arunachal: "Swachhta Hi Seva" campaign launched all over State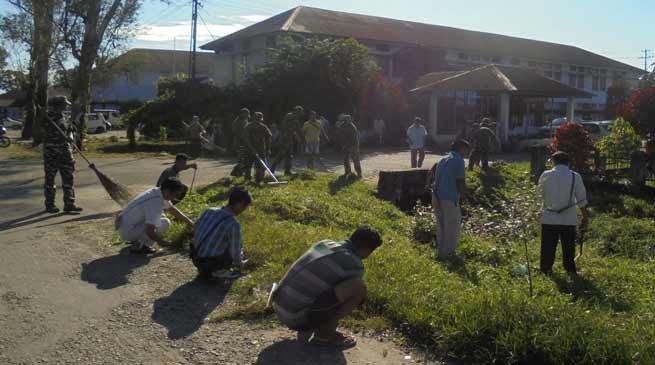 Itanagar
"Swachhta Hi Seva" a nationwide forthnight long campaign from 15th September to 2nd October 2017 launched with rest of the country by Minister of Urban Development, Town Planning, Land Management, ULB and  Law and Justice at Govt Secondary  School, Mani in Doimukh Circle under Papum pare District today on 15th September'2017.
Addressing the people on the occasion Rebia said that 'cleanliness must come out from our own heart and mind as our small contribution towards cleanliness will make big difference in the future'. Highlighting on benefits of clean environment Rebia said that we all must strive to achieve the dream of our Father of Nation Mahatma Gandhi's dream of clean and beautiful India' as well as to make our Arunachal as a whole clean and green.
BHALUKPONG-  Fortnight long cleanliness drive under Swachh Bharat Abhiyan flagged off by MLA cum Parliamentary Secretary   Kumsi Sidisow Phe &Ws, Eco & Stats in the presence of EAC Bhalukpong,  T.Riba, DFO, Khellong Division Jawal, EE' s of various department, Police personnel , Public leaders and Government Staffs at Indigenous Festival ground,  Upper Bhalukpong. Message and theme was " Swachchata hi Seva " and pledged to use three R' s-  Reduce, Reuse & Recycle. Cleanliness leads to Godliness.
YUPIA- Swachch Bharat Abhiyan "Swachhta Hi Seva" organised by Department of Urban Development and Planning was also inaugurated by DC  Tai Kaye today in the evening at Mini General ground,Yupia. DC administered the pledge of sanitation to HoDs, Staffs, ITBP jawans, school children. A cleanliness drive was also conducted at the surroundings of DC office Yupia to mark the day.
DOIMUKH-  Doimukh Govt Higher Secondary School SDO Doimukh Ibom Tao administered the sanitation pledge and J. Padung SDO Kimin administered pledge at Govt Higher Secondary School Kimin.  UPO Yupia Er. Tao Tadap along with his staff organised the programme.
TAWANG-    Around 3000 people comprising  of officers/ officials, PRI members, students, shopkeepers, NGOs gathered at the Tsanyang Gyatso High Altitude Stadium, Tawang today to attend the formal launching of "Swachhta Hi Seva" at District Headquarter Tawang. Addressing the participants, MLA Tawang, Tsering Tashi advocated for keeping our surroundings clean and sanitised.
WEST SIANG-  "Swachhta Hi Seva" a Pledge for Swachh Bharat Mission was flag off by Smty. Swetika Sachan, IAS Deputy Commissioner in presence of all HoDs, NGOs, Students and Military & Paramilitary forces. The Swachhta Mission will commence from 15th Sep to 2nd Oct 2017. While flagging off the Swachhta Mission she informed that cleaning of Yomgo river confluence, Lakes & Ponds, Monuments, Hospitals, Educational institutions and declaration of Plastic Free District are main targets during these 15 days Swachhta Mission.
SIANG- The inaugural day of the "Swachhta Hi Seva" formally launched amidst a huge gathering of HoDs, Public leaders, School teachers, students and general public at Pangin and Boleng in Siang District by the Deputy Commissioner Siang District  Rahul Singh and ADC Boleng   Tayek Pado respectively.  In his address, the DC while underlying the importance of maintaining cleanliness and hygiene urged people to make genuine efforts towards the objective of Swachch and eradication of open defecation.
UPPER SIANG-   The celebration of "Swachhta Hi Seva" under Swachh Bharat Mission launched at Govt. HSS Auditorium, Yingkiong today. Attending as a Chief Guest Bading Teng ZPM stressed on cleanliness at home & Surrounding for good health & Healthy India. He asked the students' Community spread a message of Swachh Bharat & motivate their parents to have compulsory IHHL abandoning traditional one. He also led the pledge of Swachhta hi Seva to the gathering.
PASIGHAT-  A "Safai Abhiyan"  alongwith a Plantation programme  under Swacch Bharat Abhiyan (SBA)  was organised  in the premises of Bakin Pertin General Hospital,  under the joint initiative of 186 BN.CRPF, East Siang District Administration and District Police, College of Horticulture, Pasighat,  Hospital Authorities and Pasighat Municipal Corporation. Hundreds  of  Volunteers comprising of Jawans of  186, 138 and 149 CRPF Battalions , IRBn Jawans  Doctors and staff, Police  & IRBn Officers,  Admin. Officers ,HoDs and staff  members of DC Office and Govt. departments carried out the cleanliness drive, weeding works and planted saplings provided by the College of Horticulture , Pasighat.
LOHIT- Lohit District Deputy Commissioner Karma Leki launched the fortnight long programme of "Swachhta Hi Seva"by administering Swachhta Pledge at Amik Ringya Hall, here today. HoDs, Government staff, public leaders, PRI leaders, teachers and students, business communities, all Brand Ambassadors (Nav Ratnas), and representatives of NGOs of Lohit District and public were among the participants in the inaugural day.