Sports
Arunachal: Laprey Sirum wins maiden T-15 Sirum Cricket Tournament
The match witnessed an outstanding performance by Moge Riba, who was declared the Man of the Match for his stellar contribution.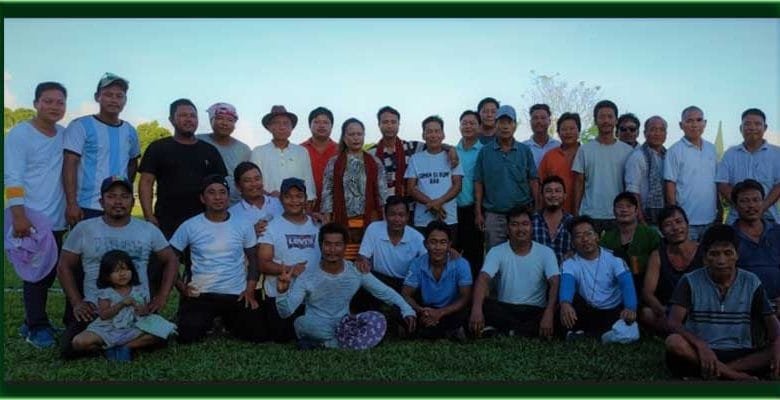 ROING-  In a historic moment for the village of Jia, Laprey Sirum emerged victorious in the first-ever T-15 Sirum Cricket Tournament 2023, defeating Simin Sirum by a margin of 30 runs in a thrilling final match held at the Jia ground on Monday.
The match witnessed an outstanding performance by Moge Riba, who was declared the Man of the Match for his stellar contribution. Riba scored a remarkable 36 runs in just 22 balls and also took 1 crucial wicket, leading his team to a dominant victory. Not only did he shine in the final, but Riba's exceptional performance throughout the tournament earned him the prestigious Man of the Series award, having scored a total of 252 runs and taking 7 wickets. Additionally, Tem Ngupok clinched the title of the highest wicket-taker of the tournament with a total of 10 wickets, while Miding Lego was honored with the Best Catch award.
Also Read- Thunderbolts retain TPL-2023 title with a thrilling super over win
The T-15 Sirum Cricket Tournament 2023, organized by the Jia Cricket Association (Registered under DCA, Lower Dibang Valley), commenced on September 18th and culminated on October 2nd, marking a momentous occasion for the village.
A total of seven teams participated in the tournament, including Sisang Sirum, Laprey Sirum, Simin Sirum, 1 Lakh Sirum, Sirep Sirum, Koje Janggo Sirum, and Super 11. It's worth noting that Sirum represents a unique social hierarchy within Jia village, with members divided into different age groups. Sisang Sirum and Koje Janggo Sirum stood out as the eldest and youngest teams, respectively.
The grand finale was graced by the presence of esteemed guests, including Alina Ratan Perme, ZPM (Zilla Parishad Member), Bukkong, David Lego, Ex ASM (Assistant Social Member) Meka, who attended as the Chief Guest and Guest of Honor respectively.
In her address, ZPM Alina Ratan Perme praised Jia village's commitment to sports and other co-curricular activities. She emphasized that the village's spirit of sportsmanship, unity, and support set a remarkable example for nearby Adi-inhabited villages in Roing.
David Lego echoed similar sentiments, highlighting the importance of engaging the younger generation in sports activities as a means to promote physical health and deter them from participating in anti-social activities.
The tournament's objective, explained by committee Secretary Okenmang Yirang, was to bring together cricket enthusiasts from different age groups within the village, providing them with a memorable and enjoyable experience. Additionally, the tournament aimed to foster a sense of brotherhood and promote the essence of sports, offering young talents a platform to showcase their skills.
Also Read-  Pema Khandu assures cash incentives to state Wushu players who could not participate in Asian Games
Captain Bang Lego of Laprey Sirum, while receiving the winner's trophy, expressed his gratitude for the immense coordination and hard work put in by his team members. He commended the team's resilience and determination, which saw them triumph in all the robin rounds and the semifinals, ultimately emerging as champions.
The victorious Laprey Sirum team took home the coveted TPL trophy along with a cash prize. Simin Sirum, the runner-up, also received a trophy and cash prize. The presence of Bamgo Ngusang HGB, Belum Yao, GB, Metem Litin, Banggo Secretary, and other respected elders and members of the Jia village added grandeur to the event.