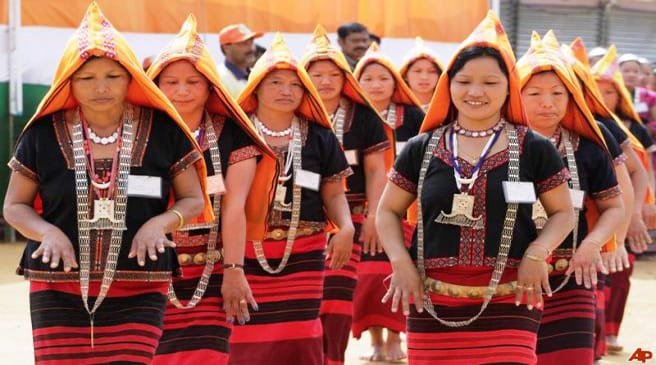 Itanagar
Three-day Festival of Arunachal-2016 concluded at IG Park on Monday evening. The curtains were brought down with prize distribution and felicitation ceremony where Chief Minister Kalikho Pul, Chief Secretary Ramesh Negi and a host of dignitaries were present. Prolific writer and thinker Oshong Ering, a retired IAS officer.  was felicitated for his contribution towards promotion of socio-cultural ethos.
On the occasion, Chief Minister's Excellence Award was also conferred on 15 teachers of the state.
The Department of Fisheries felicitated four of its hardworking, sincere, honest and punctual officials, who included Kenbom Chisi, DFDO, Yinkiong (Most hardworking officer), Kaling Borang, Supdt (Most sincere official), Dani Koyang, Peon (Most honest official) and Taro Kacho, retired Chowkidar (Most punctual and regular official).
The award for the 'Best Exhibition Stall' was jointly given to Geology and Mining Department and Women Commission and Legal Services Authority.
Oshong Ering, Sahitya Akademi Awardee YD Thongchi, Secretary Art & Culture and Chairman Organising Commiiitee Dani Salu and DC Capital Complex Sandeep Kumar Singh gave away the prizes in various categories.
Prizes for various categories in cultural, literary and drawing and painting competitions were also given away.
A marathon race was also organized on Monday as part of the celebration. Director (Youth Affairs) D.K. Dinglow flagged off the rally.
Kojom Potom won the race in men's category followed by Ghanesom Chetry and Soma Pao in second and third positions.
LD Neithinloi Chiru, Soni Nalo and Achik Wangsa won the first, second and third positions respectively in women's category.
All the winners were given cash prizes. Consolation prizes were also given to the top 10 finishers.
Other highlights of the closing ceremony were folk dance performed by various tribes of the state, Rock Show designer's (Rubu Diming) Fashion Show.
Social worker and former chairperson of APSCW Jarjum Ete representing the symbol of women empowerment was the showstopper at the fashion show. The proceeds of the fashion show will go to Gyan Mission Orphanage, Itanagar.
Earlier in the evening, the Chief Secretary Ramesh Negi accompanied by Dani Salu, Chairman, Organising Committee, Festival of Arunachal and Sonam Chombey, Secretary Planning and IPR visited the Culture and Music Street Pageant "the Boulevard of Colours" at Naharlagun. The street pageant has been introduced as a part of the Statehood celebrations to provide platform to creative expression by young artistes.