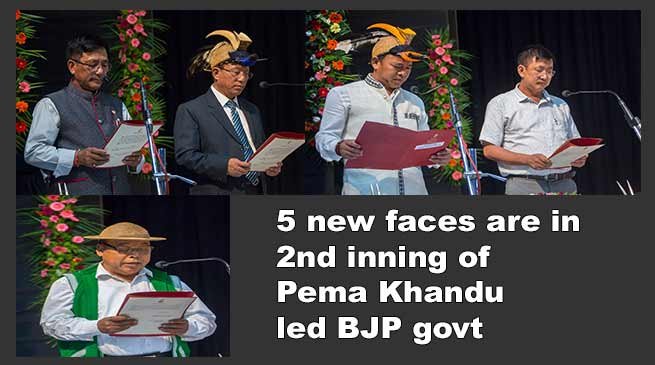 Tumke Bagra, Mama Natung, Nakap Nalo, Taba Tedir and Tage Taki are 5 new faces in the 2nd inning of Pema Khandu led BJP government.
---
Itanagar
 Tumke Bagra from Along (West), Mama Natung from Seppa (West), Nakap Nalo from  Nacho, Taba Tedir from  Yachuli and Tage Taki from  Ziro-Hapoli assembly constituency are the new faces who have occupied  birth in Ministry for the 2nd inning of Pema Khandu led BJP government in Arunachal Pradesh .
The swearing ceremony which took place today at the jam packed Dorjee Khandu convention centre at IG Park where the five new faces were administered the oath of office and secrecy by Governor, Brig. (Dr.) B.D. Mishra (Retd.) alongwith other.
Tumke Bagra was Deputy Speaker of the Arunachal Pradesh Legislative Assembly (APLA) in his last tenure who comes from West Siang district whereas earlier Jarkar Gamlin was the Minister from the district who did not contest election as party ticket denied to him.  Bagre was earlier an engineer in PHE Department who later promoted as Secretary in government of Arunachal Pradesh and serve the state as a technocrat and having a vast experience.
Mama Natung who win the election for third consecutive term and got the ministry berth first time who comes from East Kameng district, earlier in last tenure Kumar Waii have been representing the district in the ministry who did not get party ticket and switch over to NPP and lost his election from 8 Bameng assembly constituency with Guruk Purdong.
Nakap Nalo who represented the Upper Subansiri district who enters the assembly first time and in his first attempt got the ministry berth.  Nalo who defeated his rival candidate of Congress and veteran political leader and five time winner and former Home Minister Tanga Byaling. He have lots of experience during the Byaling tenure as a supporters and relative.
Tage Taki is another Minister who got berth first time in the Ministry during his second inning from 17 Ziro Hapoli assembly constituency. Taki who have served the state as an engineer from PWD department and reached to Superintending engineer and joined politic and his second inning was a lucky one as he defeated his rival candidate Nani Rebia, former MLA who was earlier from BJP but joined Congress due to denial of party ticket to contest from Ziro.
The another new face of the Pema Khandu ministry is Taba Tedir from 16 Yachuli assembly constituency of Lower Subansiri district who was also an engineer and served the state as Chief Engineer cum Director of Urban Development department, before he was in PWD department. Tedir is a experience technocrat and have indirectly been associated with the politic as her Late Wife Dr. Nirmali Taba was a politician who unsuccessfully contested the same constituency in 2014 and lost with INC MLA LIkha Saaya.
It is to mention that few sitting cabinet minister who either did not get party ticket or did not contest election of few those who contest the election from other political party lose the battle are Kumar Waii from Bameng who contested from NPP Party from East Kameng district. Nabam Rebia a veteran political leader from Doimukh assembly constituency  did not contest the 2019 assembly election as he did not get the party ticket. Jarkar Gamlin from Along (East) also did not get party ticket and decided not to contest election where the BJP candidate Kento Jini remain uncontested.
Sitting Minister from Rumgong Tamio Taga also lost election this time by a new candidate from JDU Talem Taboh. Taga was a senior cabinet minister and a veteran political leader of state.
Another young cabinet minister of Pema Khandu government who lost the election is Dr. Mohesh Chai from Tezu assembly constituency by an independent candidate Karikho Kri.
All total there was a vacant seat of five in the ministry and the new five faces have been inducted to the Khandu ministry and the team khandu in BJP have beg full majority of its own.
BJP manage 41 out of 60 members house, while JDU beg 7 seats, NPP 5, congress with 4 seats, 2 independent and the regional Peoples party of Arunachal (PPA) got only 1 seat.