Arunachal
Throwing Garbage in River side,  lack of Awareness ?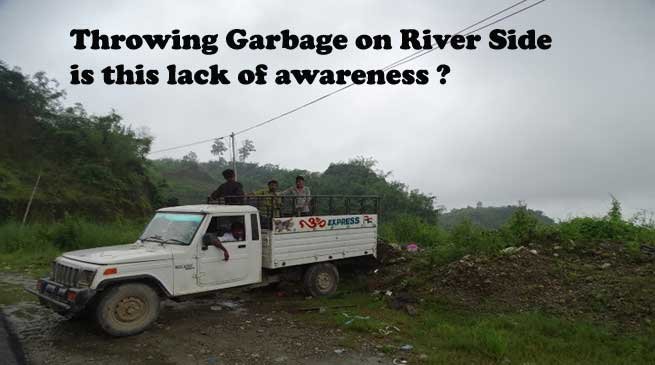 Naharlagun
By Manoj Singh
This correspondent have seen the hired labourers throwing the garbage in the river Dikrong at sinking Zone near Nirjuli at around 11.30 AM on Monday. When asked these labourers as to why they are throwing the garbages in the river, they simply replied we are throwing as usually. and now the question arises  that " throwing the garbage in river side is the lack of awareness , or is irresponsibility of the people"
Who will teach those persons who are knowingly throwing garbage in the river. It is really embarressing to see that lots of local people throw garbage's in river Chimi, Pachin and even in Dikrong.
Several occasion the local resident of Barapani use to throw garbage from the over  bridge at Barpani and C Sector in Naharlagun.  ue to this drains and nallah in almost all parts of capital complex are full of garbage and house waste. People  forget the morality which the IMC have been trying by several way and means and which was managed by the Urban Development prior to takeover of charge to IMC.
The Prime Minister of India Narendra Modi have always advocate for maintain Swatch Bharat Abhiyan and several programmes have been initiated in this regard like Defecation free, construction of toilets, and many more.
We need take up the issue of cleanness drive awareness campaign in every house to house and take a undertaking that we will in no case through garbage in running water and public premises like Bus Stand, Market, Hospital, Office, School, College and others so as we have to stay in a clean and green environment