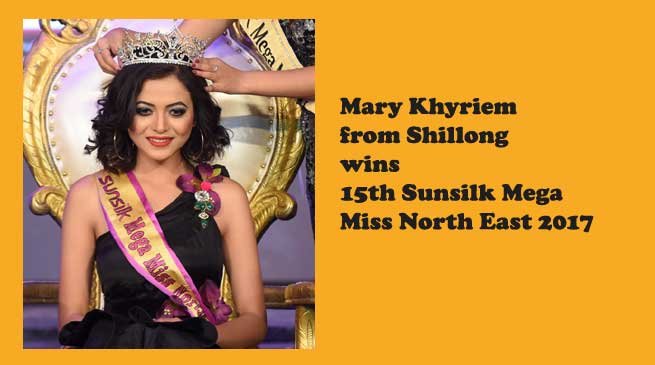 Guwahati  
Mary Khyriem from Shillong, Meghalaya was crowned the 15th Sunsilk Mega Miss North East 2017 at the ITA Cultural Complex, on Sunday. Besides, Strela Thounaojam from Imphal and Smriti Sarmah from Guwahati became the 1st and 2nd runners up respectively.
Mary Khyriem was crowned by Sunsilk Mega Miss North East 2016 Meriya Subba. Mary, a 3rd semester mass communication student at St. Anthony's College, Shillong, said that she must thank the people of North East for the support and specially her family members who supported her throughout her life.
Strela Thounaojam was crowned the first Runner's up at the gala event on. "I am blessed with two mothers and the love of them has helped me shape into a better woman… In my journey, my aunt has been one of my support systems and I am sure I have made all of them proud today…" said Strela whose father is a Manipur-based journalist.
The second Runner's up, which completed 15 glorious years this year, was Guwahati's Smriti Sarmah. A Delhi University post graduate, Smriti did her schooling from National Public School and Army Public School, Narangi. "This is such an exhilarating experience…it's yet to sink in. I can just say that I am overwhelmed now and probably it will take me a week or so to realize I am one of the title winners.