Arunachal
Namsai- Chowna Mein Lays foundation stone for VKV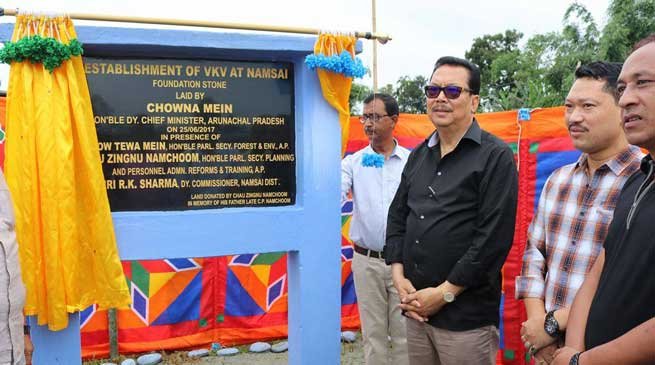 Namsai
Deputy Chief Minister, Chowna Mein today laid the foundation stone of Vivekanand Kendriya Vidyalaya (VKV) to be established at Namsai amidst presence of Chow Tewa Mein, Parliamentary Secretary- Environment & Forests, Chau Zingnu Namchoom, Parliamentary Secretary- Planning, AR etc, R.K.Sharma, DC, Namsai, District Officers, Panchayat Leaders, Youth and student organizations of the district and staff from Vivekanada Kendriya Vidyalaya Trust.
While acknowledging the tremendous contribution of VKV in shaping the education of the generations in this landlocked hilly state in adverse conditions, the DCM extended gratitude on behalf of the people of the state to the trusts and hope that the establishment of VKV at Namsai will be another milestone in the direction of providing quality education to the future generations. He also applauded the tireless efforts put on by local MLA Chau Zingnu Namchoom to establish the VKV at Namsai.
The DCM urged upon the public to extend full cooperation to local administration and to VKV trusts for early start of the academic sessions. Elaborating the state Govt. policy of according top priority in education and health, he informed that rationalization of posting of teachers has been finalized and requested all not to interfere in the transfer and posting of teachers & doctors. He also urged upon the youth to take up entrepreneurship in agriculture & allied, tourism & hospitality and manufacturing sectors so that employment avenues are generated while contributing to state's GDP.
Earlier, welcoming DCM, Parliamentary Secretaries and VKV fraternity, R. K. Sharma DC informed that the land for the school has been donated by Chau Zingnu Namchoom in fond memory of his father Late C. P. Namchoom who happened to be the local MLA of Namsai and a Minister in the state cabinet.
Chau Zingnu Namchoom addressing the gathering, extended gratitude to the Chief Minister, Deputy Chief Minister & VKV trusts for accepting the proposal for establishment of VKV School at Namsai. He also expressed concerns over dismal performance of the students in class X and Class XII examinations and requested all to introspect to find out the reason behind it. Chow Tewa Mein, Parliamentary Secretary, Env & forest also addressed the gathering and hope that the institute will be a centre for quality education and personality development of budding citizen.
The education officer of VKV trusts, Mr Unikrishnan briefly elaborated the activities of the trusts in the state and informed that the VKV Namsai is the 37th Schools the trust has established. He hopes that the school can be functionalized within very short time with active support of the State Govt. Administration and local leaders.