Arunachal
Thousands gathered at Tawang to listen to His Holiness spiritual talks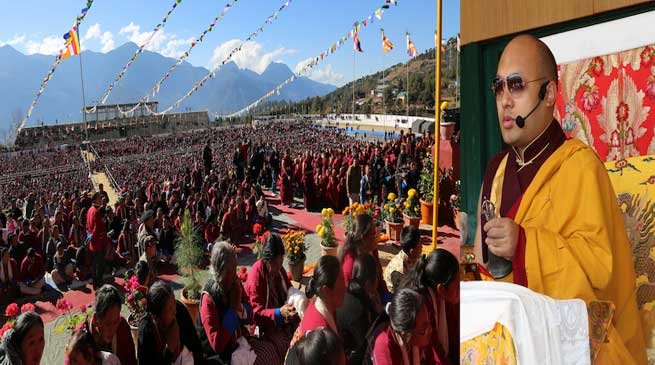 Tawang
Over 20,000 people from all over Tawang district gathered at High Altitude Stadium here to get a glimpse of His Holiness the 17th Gyalwang Karmapa Ogyen Trinley Dorje and to receive the holy dharma preaching.
Seated amidst religious scholars, monks, nuns and high profile dignitaries at Yid-Gha-Choezin Gompa facing the stadium, His Holiness bestowed life long empowerment of Buddha Amityas to all sentient beings.
Referring to the preaching of Indian Buddhist Philosopher, Nagarjuna, he advised that apart from long life empowerment, maintaining good health is equally important. The Karmapa urged on practicing compassion, which is the essence of Buddha Dharma that helps to have peaceful mind and in turn helps to have long life. 
His Holiness further spoke on the relationship between the Karmapa and the Monpas referring to the visit of first Karmapa Dusum Khyenpa during the early 12th century. He also mentioned the visit of 3rd, 4th and 9th Karmapa to the Mon region.
Earlier welcoming the His Holiness, Chief Minister Pema Khandu thanked the Prime Minister of India, Narendra Modi and Home Minister, Rajnath Singh for honouring his request for the visit of The Karmapa to Arunachal. He also thanked Minister of State for Home Affairs, Kiren Rijiju for pursuing the invitation and clearing the necessary formalities.
The Chief Minister expressed that people of Monyul were long aspiring to seek the blessings of His Holiness. He hoped that with his spiritual blessings and guidance, it will help all to become better human beings. Khandu emphasized on Buddhist philosophy of compassion to be required by the entire world, which is being torn apart by hatred and violence.
The Chief Minister informed His Holiness that the people of Mon region are eager to learn Bhoti script and have been introduced in schools as third language. He hoped that proficiency in Bhoti script will help people understand the ancient Buddhist scriptures and take them to higher level of perfection.
Earlier, the programme began with a plantation drive in the Gompa compound by His Holiness and the Chief Minister. It was followed by the offerings of Mande-Ten-Tsum by the Abbot of Tawang Monastery, Chief Minister, RWD Parliamentary Secretary Jambey Tashi, Tawang MLA Tsering Tashi and various dignitaries that attended the programme.
His Holiness was presented with cultural dances of Monyul region performed by artistes from various villages.