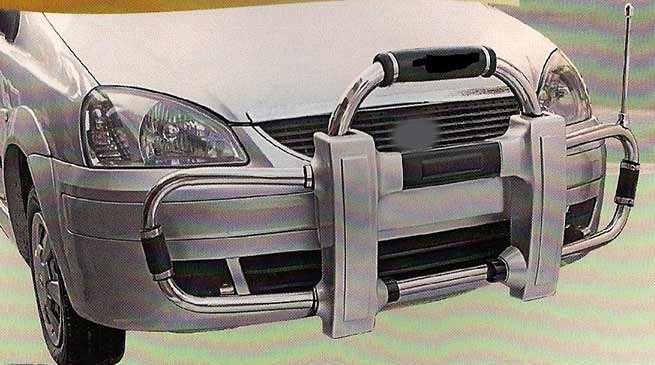 "Crash guards or bull bars on the vehicles pose serious safety concerns- Dani Salu, Secretary Transport 
---
Itanagar
The unauthorised fittings of crash guard and bull bars in the vehicles which  have been proved fatal at many occasion during the accident need to be removed said Secretary Transport Dani Salu.
Dani Salu while talking to this reporter said that using unauthorised fittings of crash guard/bull bars on the motor vehicles pose serious security concern to the pedestrians as well as occupants of the vehicle.
He said such unauthorised fittings of crash guard/bull bars contravenes the provisions of section 52 of Motor Vehicle Act-1988 and is liable to be penalising under Section 190 and 191 of the Motor Vehicle Act 1988.
He said the government of India, Ministry of Road Transport and Highway vide letter No-RT 11021/38/2017-MVI dated 7/12/2017 has directed the state government to strict action against the unauthorised fittings of crash guard/bull bars on the motor vehicles.
When asked about the other impact of such crash guard/bull bars,  Secretary said that these crash guard/bull bars and bumpers sore the body and also add extra weight to the vehicle all time give stressed to the vehicle and also extra fuel are consumed, these guards and bumpers also cover space and are difficult for parking in busy and cognisant places.
He said that according to the experts and technicians during the accidents the safety bags (balloon) does not pop out due to fittings of these unauthorised crash guards and bull bars and the occupant of the vehicle gets severe injury which can be even fatal.
He said that for safety of the passengers and others,  it is advisable that these unauthorised crash guard and bull bard are immediately removed henceforth.
Order have been recently circulated and also send to all deputy commissioner and Superintendent of Police for its implementation on the ground.
He said that the traffic personnel and police deputed on traffic duty need to be guided by the administration and police to start with action as it attract the MV Act.
Meanwhile he also appealed the general public to remove such unauthorised crash guard/bull bard and bumpers from their vehicle henceforth or action will be initiated by the law enforcing agency.