Itanagar
Arunachal: Ninong Ering and Lombo Tayeng assure for constructive opposition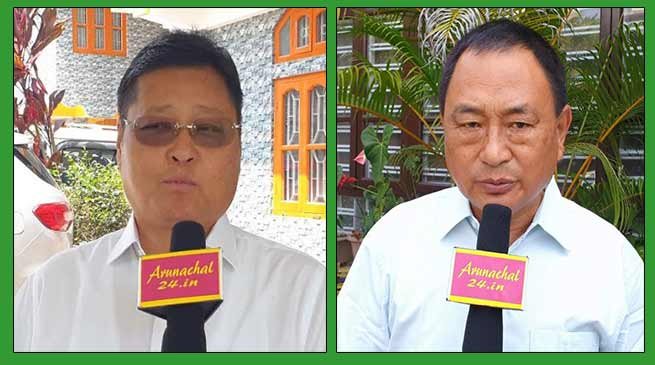 Ninong Ering from Pasighat and Lombo Tayeng from Mebo Constituency are among the four INC MLA who have wins in Arunachal Pradesh Assembly polls-2019 .
---
Itanagar
Two senior leaders of congress who are elected from their respective constituencies said that the INC party will stay in the opposition as a constructive opposition to take the state forward.
Ninong Ering from 37-Pasighat constituency and Lombo Tayeng from 39-Mebo Constituency are among the four who have won from Indian National Congress Party. Both further assured of working for the welfare of the state and to bring more development in the state.
Ninong informed that he will give focus on the sustainable development that can benefit all and help in overall growth of the constituency as state as a whole. He also viewed that attention should be given to curb the drug addiction problem in the state.
He further stated that he work for bring and setting up better Agro-based industry to export local products which in turn help in the state economy.
"Various local products should be made available for marketing, and I will try to bring mechanism that will allow local products to be made available," added Ninong.He also said that he will work for all round development of the constituency.
Watch Video 
Lombo Tayeng while stressing on the importance of constructive opposition in a democracy, said that he as a senior leader will lead for active and strong opposition the parliament.
Lambo has contested for seven times and he has been elected for the sixth time. Speaking of the victory, he said, "Despite all the odds, I have been elected and reposed faith on me by the people and I am thankful to the people."
Stating that Mebo is one of the most developing constituencies, he said that the people have elected him based on the work and development he has done as a representative.
He further said that he will work for bringing more development in various areas like education, road and transport, health and electricity.