Itanagar
Itanagar: Sarkar Aapke Dwar held at Ganga Village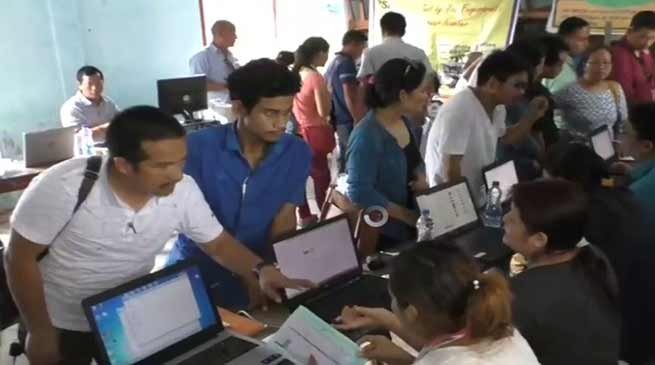 The Sarkar Aapke Dwar (Government at your Doorstep) was organised today at Govt. Hr. Secondary School, Ganga Village, Itanagar.
---
Itanagar
The Sarkar Aapke Dwar (Government at your Doorstep) was organised today at Govt. Hr. Secondary School, Ganga Village, Itanagar with participation of more than 21 departments providing their services in single platform.
The motive behind conducting the camp was hugely successful as huge number of people from every walks of life came to utilise the services of various departments.
The camp which was organised by the District Administration Capital Complex aims to resolve public grievances on the spot through delivery of services of the Government to the citizens.
The Deputy Commissioner Capital Complex Prince Dhawan visited every counter and interacted with the team members. He also handed out important documents like digitally generated ST/PRC, LPC to the already approved cases, marriage certificate etc to the public. At the counter of the Food and Civil Supply department, the DC handed over Smart Ration Cards(SRC), the first of its kind in the whole of North East. A total of 220 SRCs were issued in the camp.
The other services provided during the programme were forms for new electrical connection, water connection, AADHAAR enrolment, e- ILP, employment certificate trading license, renewal of arm license, distribution of items under Ujala scheme, new account opening, passport verification and various schemes such as Old Age pension, Jeevan Seaman, PMMVY, Udyog Aadhaar Memorandum(UAM) registration, PMEGP, etc. The citizens were also given awareness on consumer rights and duties, Disaster Management, sanitation, Legal Awareness etc.
The Department of Health registered total of 2154 beneficiaries thereby providing various services like screening of Diabetes ,Hypertension under NCD by free check-up of Blood sugar , BP ,BMI, Toxin Analysis. Malaria Blood test etc, distribution of kits, ors packets etc.
A total of 126 beneficiaries were enrolled for AADHAAR.
Watch Video
142 beneficaries were benefitted by awareness on domestic violence by Women Helpline 181 and 142 were given awreness on protection of women and children from domestic and any other form of violence by One Stop Centre.
APEDA while promoting solar energy distributed a total of 173 nos of LED Bulbs and fans and generated a revenue of Rs 112330.
The Itanagar Municipal Council generated Revenue to the tune of Rs. 159101/- in Trading license, garbage collection and Birth certificate etc. through cashless transaction.
The DC informed that services were given by over 21 Departments under one roof making it truly Sarkar Aapke Dwar. He further informed that the camp would be held every month and appealed the citizens to participate and avail facilities through such events which have been specifically organised for the public.
The DC further informed that the 4th Sarkar Aap Ke Dwar camp would be held at Lekhi village Naharlagun in the first week of October, 5th camp would be held in Jullang village in the 1st week of November and the 6th camp would be held in Chimpu Itanagar in the first week of December.