Itanagar
Itanagar: Doctors join nation wide strike called by IMA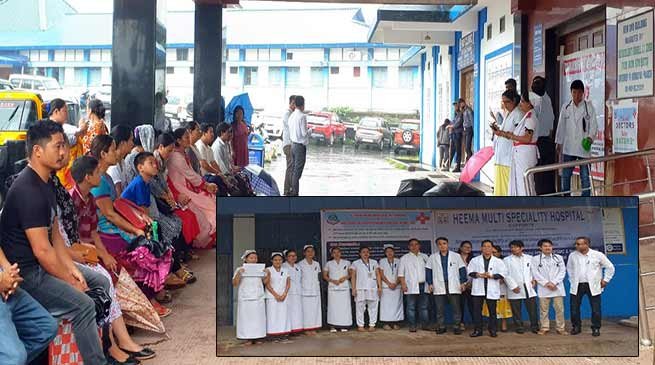 Doctors in Itanagar joined nationwide protest and strike to press their demand, medical facility paralyzed as hundreds of patient returned.
---
Itanagar
The medical services in Itanagar paralysed  on Monday after doctors of twin capital city  joined  the nationwide 24 hours strike and protest called given by the Indian Medical Association (IMA) .
All the doctors took part in the protest wearing black ribbon across private and government hospitals of twin capital city. However Emergency services were functioning along with indoor services to the patients who were already admitted and open to serious cases.
IMA State Unit President Dr Lobsang Tsetin, highlighted that the strike is being held all over the country as junior doctors in NRS Medical College, Kolkata were recently assaulted by irate mob after a patient, died.  Doctors, medical staffs etc. are being attacked all over India and till date there is no strong action or strong law against it. We are also human being and as per our capacity or skills we are ready to provide service to the public or patients, he expressed.
The President appealed the Government of India to bring a strong law to maintain safe and secure environment in the hospital and its premises. He also appealed to the public to maintain peaceful environment in hospital, while adding that doctors cannot provide good service under pressure. Even though Arunachal Pradesh have very low infrastructure and facilities doctors here are trying their best to provided best services to our patients, he said.
Watch Video 
Medical Superintendent (Heema Hospital) and VP state unit IMA Dr Kesang W Thingdok,  informed that all the doctors and staff of Heema Hospital are taking part in the protest to show solidarity with our counterpart, Bengal supporting the young doctor Junior doctor Paribaha Mukhopadhyay. Due to no proper act to curtail such issues by the government we are facing such violence against us.
"We are not God and we cannot replace God. People must understand that there will be casualty when dealing with difficult cases in spite our best efforts" we will always do our duty with outmost sincerity and dedication being a professional Dr Kesang said.
The duo demanded that the government must be aware to enact proper law so that violence against medical staff is stopped and that safe and secure environment must be maintained in hospital premises.
Report of protest by doctors and para medical staffs have been received from different parts of state. Including those of Government Hospital and Private Hospital of capital complex ie, THIHMS, Niva Hospital, Hormin Hospital, Tago Memorial Hospital and others.