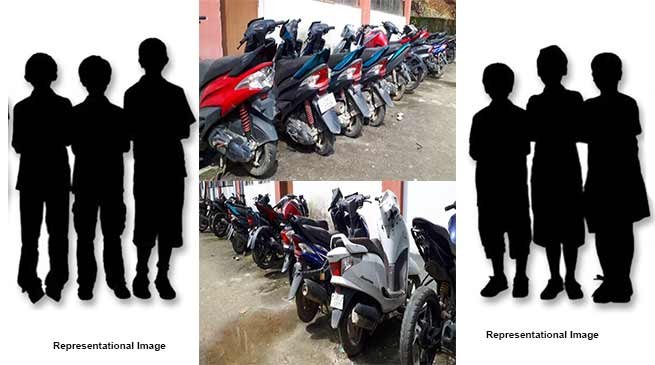 Capital police apprehended 6 minor boy in connection with two-wheeler theft,  recovered 8 Stolen scooty.
---
Itanagar
Yet in another incident, six minors apprehended by Capital police recently in connection with theft of scooty in twin capital city Itanagar and Naharlagun.
SP Capital M Harsha Vardhan while informing  Arunachal24  said that  the theft  case of two wheeler in capital have been increase.  But the point of concern is that 'Many juvenile apprehended are involved even in two-wheeler theft and other heinous crime'.
Giving detail of the incident Vardhan said that capital Police has recovered 8 stolen Scooty and apprehended 6 juveniles and arrested one person in connection with two cases registered  at Itanagar vide Case No268/18 u/s 379 IPC and another at Naharlagun PS case no-172/18 u/s-448/380 IPC.  4 scooty recover by Naharlagun Police while 4 scooty recovered by Itanagar police. he said.
Breakthroughs came from team of PS Naharlagun headed by OC G Tassa and SI Sushant Jha and a team of PS Itanagar including Itanagar SDPO Kamdam Sikom and SI Giogi Tape.
We have stepped up regular checking at night to reduce the number of vehicle thefts.
Juvenile being involved in scooty theft is a disturbing trend. 1 person arrested in one Tana Aju from Nirjuli area. SP added
Meanwhile SP Harsha Vardhan  appeal the parents and guardian to check their children's  movement and try to contain their involvement in bad habits.