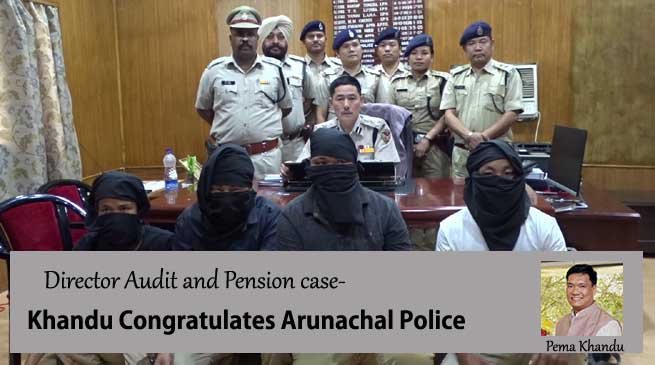 Itanagar
Chief Minister Pema Khandu has congratulated the state police for arresting the miscreants involved in an extortion attempt at gun point on the Director Audit and Pension two days ago.
Appreciating the capital police for tracking down the miscreants and arresting all involved within three days, Khandu said that it exemplified the efficiency and commitment of the state police in maintaining law and order and bring culprits to book.
"I congratulate and appreciate all the police officials and personnels involved, particularly DIG (West) Tussar Taba and city SP Dr A Koan, for their promptness and arresting the culprits in record time," he said,
Khandu observed that such quick action and successful solution of criminal cases will strengthen the confidence of people on the police and create a strong bond between citizens and the department.
Read this also- Arunachal Police busted Gang of four in Director of Audit & Pension attack case
He also appreciated Director Audit and Pension, A Basit for his courage and presence of mind.
"Despite being threatened with an assault rifle, Basit displayed exemplary courage and presence of mind and single-handedly tackled the culprit. His action not only saved his life but also helped the police get a lead from the arms left behind by the fleeing assailant," Khandu added.
Meanwhile, the Chief Minister, who is in the national capital to attend the 66th Plenary Session of the North East Council (NEC), expressed serious concern over the fact that all the four arrested miscreants are indigenous youths aged between 24 to 35 years. He called for introspection by parents and elders and to aptly guide them so that they do not stray away from the mainstream.
Read this also- Itanagar- Miscreants Carrying AK-56 attack Govt Office
He also appealed youths to utilize their time and energy in constructive ways and assured Government's support.
"The state government has launched several new schemes and programmes for benefit of unemployed youths. Please take advantage of these and make a decent livelihood instead of opting for unlawful means that would only land you in trouble," he added.