Arunachal
Arunachal: Pema Khandu proposes Establishing 'Writers Village' in the laps of Nature
This 'Village', he said, would be a resort in the laps of nature where writers and artistes can push their creative pursuits in peace and solitude.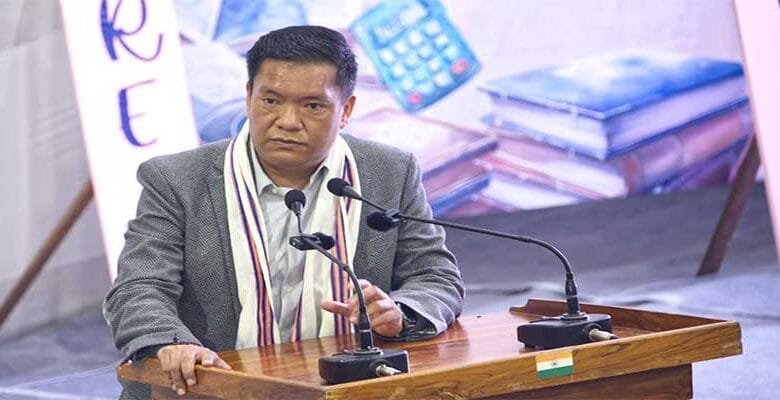 ITANAGAR-   In order to provide the perfect ambience to writers, artistes, researchers and creative minds Chief Minister Pema Khandu today proposed a 'Writers' Village' to be established somewhere suitable in Arunachal Pradesh. This 'Village', he said, would be a resort in the laps of nature where writers and artistes can push their creative pursuits in peace and solitude.
Speaking at the valedictory function of the 3-day Arunachal Literature Festival (ALF) here this evening at the DK Convention Centre, Khandu revealed that the 'project' was on his mind for quite sometime and said that the occasion was the perfect to announce it.
Watch Video: Travel to Tawang of Arunachal Pradesh
"Arunachal Pradesh has some of the best locations where the mind roams free, hearts beat in perfect rhythm and the soul is at total peace. Writers and artistes just need such an ambience to perfect their art. We will offer it," he said.
According to Khandu the "Writers' Village" would be a perfect resort with all basic facilities at some remote location, where writers can stay for weeks and months finetuning their creative pursuits.
"I would like to invite all creative minds to avail this facility," he said.
The ALF is being attended by more than fifty renowned and budding authors and poets from across the country including those from Arunachal Pradesh. Some of the big names this year are Anand Neelakanthan, Kavita Kane, Preethi Shenoy, Asgar Wajahat, Mahesh Dattani, Janice Pariat and Anuja Chandramouli.
Arunachal: Watch Tawang's History
"Literature is a reflection of humanity and a way for us to understand each other. By listening to the voice of another person we can begin to figure out how that individual thinks. I believe that literature is important because of its purpose and in a society, which is becoming increasingly detached from human interaction, novels create a conversation," he said.
Khandu was all praise for the state Department of Information and Public Relations (DIPR) for organizing the festival annually since 2018 in collaboration with Arunachal Pradesh Literary Society (APLS) headed by renowned authors like Padmashrees Y D Thongchi and Mamang Dai.
Acknowledging that the festival is growing with each passing year, Khandu suggested that the festival should travel across the state and not stay confined to the state capital. He assured enhancement of funds for organizing the festival on rotation basis across the state from next year.
ALF 2023 is the 5th edition of the festival. While the first three editions were held at Itanagar, the 4th edition was held at Namsai.
Adding to a previous speaker's concern, Khandu reiterated his stance on significance of preserving local dialects and languages. He said that the younger generation ought to learn and speak in their native tongues naturally.
Arunachal: Apatani's Unique Hong Village in Ziro Valley
"It is our responsibility to teach our kids our mother tongue and it's the responsibility of our kids to take it forward. We must always remember that cultural erosion begins when use of local dialects gets disrupted," he said.
The state government, he informed, has successfully introduced several tribe-dialects in the syllabus of primary level schools and work is on to do the same for remaining of the tribes.
Khandu expressed optimism that the ALF will successfully ignite young minds to not only read literature but also write it.
Arunachal Pradesh's ZIRO, where nature and traditions are still alive
"Literature helps us to unlock our minds and perception of the world and allows us to see out of the box. With this, we begin to reflect, ask questions, and understand better. Meanwhile, reading literature gives us knowledge about history, religion, customs, and traditions; and provides us the opportunity of understanding customs and beliefs other than our own. Literature helps us to understand other systems of living around the world," Khandu added.
The idea behind conducting Arunachal Literature Festival is to give a platform to  local authors and poets and encourage them in the field of literature. The festival invites national and international level authors to spark meaningful discussion centring on literature. It also aims at letting local youths meet both big and small publishing houses to know the hows and whys of publishing.
The valedictory function was also attended by IPR Minister Bamang Felix besides others.