Itanagar
Arunachal Budget Session- TAH issue raised in Ziro Hour discussion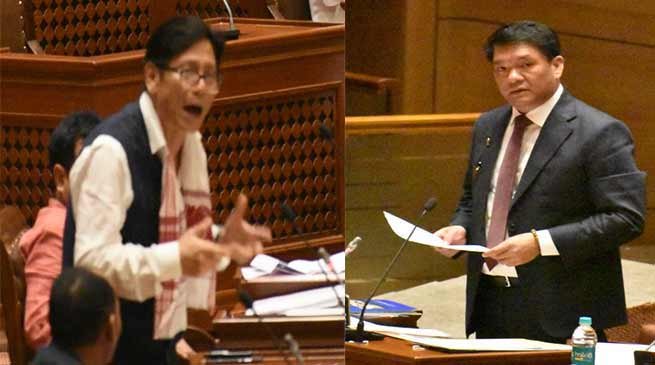 In Ziro Hour discussion, on the second day of ongoing Arunachal Pradesh Budget Session MLA Nyato Rigiya Raises the TAH issue and alleged huge misappropriation fund.
---
Itanagar
By Pradeep Kumar
In Ziro Hour discussion, highlighting dilapidated condition of roads in Upper Subansiri district, Nyato Rigiya alleged huge misappropriation of Rs 62 crore sanctioned for repair of roads till construction of Trans-Arunachal Highway (TAH).
This came to limelight during district coordination committee meeting in July last, chaired by Minister Nakap Nalo and attended DC in-charge, all HoDs and PWD EE, he said, adding the EE had reported 70% work progress though nothing was visible on the ground but, 75% payment made.
The biggest irony was that the payment was approved by the DC who is not technically sound, he said adding the situation has alienated the people of the district from rest of the state. He named the executing agencies against stretches of Ziro-Tai-Potin-Pangin road and wondered why the fund was siphoned off without works and questioned how the GoAP will deal with it? The DC and EE should not be transferred till the works are complete and sought support of district MLAs Rode Bui and Tanyia Soki.
In his response, Chief Minister Pema Khandu said though TAH work is progressing smoothly, but the Union MoRTH was given a proposal in February 2018 for Rs 183 crore+ @ 52 lakh per km to repair  336.7 km roads which was turned down. Thus the GoAP had sanctioned Rs 60 crore@ Rs 17 lakh per KM to the PWD for the purpose. Maintenance was taken up in three phases, he said and highlighted fund sanctioned and progress of stretch-wise progress till June last, saying neither 100% funds spent nor progress made.
Pointing out that his GoAP does not alienate any art of the state, the CM said the GoAP has authorized the DC to form a monitoring committee while budget department asked to sanction fund on receipt of completion certificate with pictures. But, if repair is not satisfactory, a state level committee will be formed to inspect and report, the CM assured.