North East
Agartala gets direct train Kanchanjungha Express to Kolkata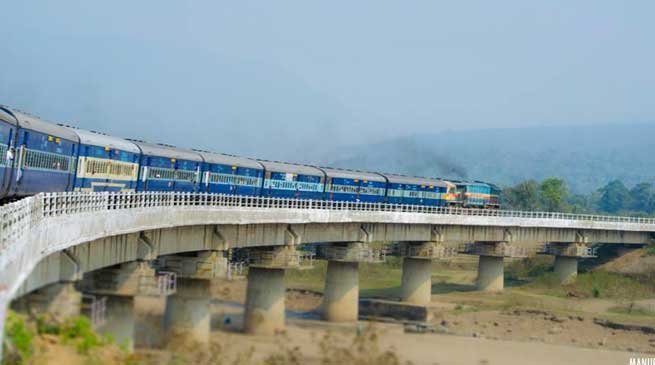 Agartala
The Kanchanjungha Express will connect Agartala the capital of Tripura with Kolkata the capital of West Bengal with commencement of its journey w.e.f. 8th October, 2016. With the introduction of this direct train between Agartala and Kolkata a long standing demand of the people of this region stands fulfilled.
It may be mentioned here that Hon'ble Railway Minister Shri Suresh Prabhakar Prabhu while flagging off the first B.G. weekly Express passenger train from Agartala to New Delhi (Anand Vihar) on 31st July, 2016 at Agartala assured everyone about introduction of a direct express passenger train from the capital of Tripura to Kolkata which is the cultural capital of our country in presence of all dignitaries. Introduction of this train is another step for fulfilling the vision of Hon'ble Prime Minister for the development of the North Eastern states. It is expected that Indian Railway's initiatives for better connectivity of the region will result in all-round development in North-east.
The newly introduced 15660 Agartala – Sealdah Kanchanjungha Express will leave from Agartala at 05-15 hrs. every Saturday & Tuesday to arrive Sealdah(Kolkata) at 19.25 hrs. on Sunday & Wednesday. From Sealdah 15659 Kanchanjungha Express will leave at 06.35 hrs. on every Sunday & Thursday to arrive Agartala at 21.00 hrs. on every Monday & Friday. Total distance from Agartala to Sealdah is about 1556 kms. The journey time will be around 38 hrs. One air conditioned three tier and one sleeper class coach will be available for booking by passenger from Agartala. The train will stop at 38 stations including Ambasa, Dharmanagar, Karimganj, Badarpur, New Haflong, Lumding and Guwahati stations before reaching Sealdah.
The train will have one air conditioned two tier, four air conditioned three tier, six sleeper class, four chair car and four general second class accommodation apart from two luggage cum parcel vans.