Arunachal
Khandu gets overall supports from Union Ministers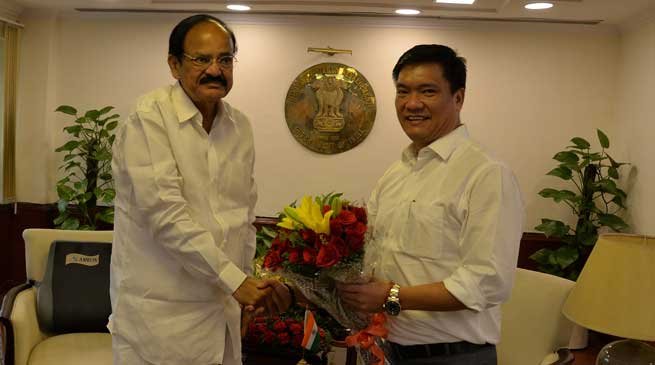 New Delhi
Chief Minister Pema Khandu had a busy day today calling on Venkaiah Naidu, Union Minister for Urban Development,  Ashok Gajapathi Raju, Union Minister for Civil Aviation and Anil Madhav Dave, MoS (Independent) for Environment, Forest & Climate Change besides others.
Pasighat and Itanagar under Smart City project
Khandu sought support from Naidu for consideration of Pasighat and Itanagar under Smart City project of the ministry. He specifically vouched for Pasighat saying it now has a functional airport, rail connectivity nearby and the best road connectivity in the state with huge potential for becoming a modern city with robust infrastructure.
The Chief Minister also sought release of pending funds for projects undertaken earlier under JNNURM (UIG component), RAY, SBM, etc besides reviewing criteria fixed for construction of Individual Household Latrine (IHHL) and solid waste management.
Khandu informed Naidu  that  five Inter-State Bus Terminus have been proposed at Pasighat, Namsai, Roing, Tawang and Jairampur, which need to be considered on priority. He also submitted that Arunachal Pradesh is yet to have any project for liquid waste management including sewerage plant.
Naidu assured all out support and instructed the officers to immediately process for required assistance to be given to Arunachal on time bound manner.
Dual Use of ALGs
The Chief Minister, in his meeting with the Union Minister for Civil Aviation, informed that the Ministry of Defence and IAF have no objection to dual use of the ALGs in Arunachal Pradesh. Therefore, he urged for a joint inspection of these ALGs by the DGCA, AAI, BCAS and Indian Air Force at the earliest.
Khandu also requested that civilian flight operations may be immediately started with the existing infrastructure with minimum facility upgradation wherever feasible, while the full-fledged civil terminal may take time. He appealed for immediate start of ATR aircraft flight service of Indian Airlines between Guwahati and Pasighat on at least thrice a week schedule.
Union Minister Raju appreciated the concerns raised by Khandu and called for a 'work together' approach between state and the center.
He assured that a joint inspection of the ALGs by the DGCA, AAI, BCAS and Indian Air Force would be conducted in the last week of October for operationalization of civil flights. He said the Tezu Airport will be operationalized by December and sought support from the state government to resolve all pending issues.
Allocation under CAMPA Fund
The Union Minister further assured that a 5 member team from Ministry of Civil Aviation and AAI would visit Itanagar shortly to inspect the site for the proposed Green Field Airport.
Calling on the Environment, Forests & Climate Change MoS, Khandu proposed that with regard to the adhoc  allocation under CAMPA for Arunachal Pradesh, instead of a 10 per cent annual allocation, a 25 percent allocation may be made so that the forest department can actively save the rich resource and also provide local employment.
Khandu called for review of an earlier decision and allow registration of tea garden by the Tea Board based on the LPC issued by the State Government without insisting on certificates from the Ministry of Environment, Forests & Climate Change. Citing that the state has a quality forest cover of 82% of the total area providing invaluable ecological services to the Nation and the World as carbon sink, he urged for forest protection force to keep this intact.
The Chief Minister also stressed that the process of evaluation of Basin Study reports and granting environmental clearance needs to strike a judicious balance between the need to preserve environment and catalysing development.
The Union Minister revealed that the Ministry is working out a plan to chalk out guidelines for allocation of CAMPA funds. He said the existing ten percent annual allocation has been fixed by the Supreme Court.
Lauding the suggestion for a forest protection force, Dave agreed to fund the state government to raise a dedicated forest protection force in the line of Tiger Protection Force. He suggested recruitment of ex-servicemen for the purpose.
The MoS assured Khandu that special attention would be accorded to Arunachal Pradesh while hinting that the state may get more funds for being one of the largest carbon sinks of the country. A mechanism is being drawn to award such states, he added.