Sports
5th edition of Dorjee Khandu Memorial State Open Badminton Championship-2017 begins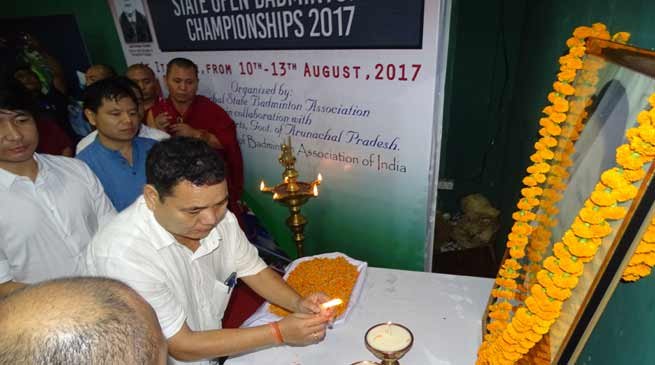 Itanagar
The 5th edition of Dorjee Khandu Memorial State Open Badminton Championship-2017 got off to flyer on Thursday at the Raj Bhawan and MLA Cottage badminton stadiums here.
Panchayati Raj and Rural Development minister, Alo Libang who formally declared the tournament open, in his address as chief guest, congratulated all the participants to have made it to the state level competition and wished them success.
Calling upon the budding and professional shuttlers participating in the tournament to maintain the spirit of sportsmanship throughout the tourney as well as while participating in other competitions, Libang said, "Winning and losing is a part of the game so try to win hearts as it is more important than winning trophies."
The minister was also of the opinion that sportspersons from Arunachal had all the talent required to compete in national and international sporting events and all that they required was proper guidance.
Recalling the contributions of, former chief minister late Dorjee Khandu, on whose memory the tournament is being organized, Libang said "It is due to the contributions of the late leader that Arunachal in today's date has some big names in the sporting world, badminton in particular."
Earlier, parliamentary secretary for sports and youth affairs, Nyamar Karbak, in his welcome address, thanked the BAI extending its support in the promotion of badminton in the state.
"Along with various other games and sports, badminton too is on the rise and loved a lot in the North Eastern states, especially in Arunachal Pradesh," he said.
Giving a brief report on the tournament and achievements of Arunachal State Badminton Association (ASBA) till date, association president, Techi Rotu asserted that the state level tournament has always aimed at providing a platform for the young shuttlers from across the state to showcase their potential.
"The state in doing great in the field of badminton and we are getting positive support from all ends, especially from the government and the people," Rotu said.
The president further appealed all to encourage the youngsters so that they can go a long way in fulfilling their dreams through the medium of sports.
The youngest participant in this year's event is a 5-year-old, Arimitho Dususow from West Kameng.
Besides Rotu, legislatures Tesam Pongte, Liasam Simai, Jambey Tashi, PD Sona, Sports Authority of Arunachal, chairman, Bamang Tago, Vice  Chairman G Doke, chairman Organising Committee Tame Phassang, director of sports Tadar Appa, secretary for sports and youth affairs, Dani Sulu and a host of other government officers and officials were also present on the occasion.
More than 280 players from 18 districts of Arunachal Pradesh are participating in the coveted championship which would see its finals being played on August 13 next. The events of u-10,13,15,17,19 open and mixed doubles. For u-19, open men, women, boys and girls.
The highest contingent of 32 from West Kameng while lowest is 6 from Kra Dadi district are participating in various category groups. The organising committee member also said that the youngest members is from west Kameng is student of Class-I from Navjyoti School, Bhalukpong and will be playing under-10 category while A Pul, son of Late Kalikho Pul is also playing from Anjow district would play under 13/15 category.
The D K Memorial State Open Badminton Championship is organized by Arunachal State Badminton Association (ASBA) in collaboration with the Directorate of Sports and Youth Affairs.
RESUTLS for Day 1 (Till 6 pm):
Women's Singles (Quarter Finals):
Tania Yasap vs Yamba Degio (21-5 21-4), Apali Mega vs Nani Ankhi (21-14 21-18)
Men's Doubles:
Jokom Ribya and Laa Talar vs Gebo Ori and Takar Hiba (21-10 21-13), N Lain and Takam Yolu vs Bijit Changmai and Jeeven Yema (18-21 21-17 21-18), Dane Linggi and Ginu Bomgyo vs A Raito and Raja Gupta (NA), Sarma and Beto Gadi vs Nariya Pungkhung and Pengpa Sara Mantaw (21-14 18-21 21-11), Charu Jaji and Saji Baby vs Biri Tame and Tai Kagung (21-12 21-14), Amibita Sonam and Biki Lakai vs Kailuk Lukham and Manpu Lukham (21-10 21-8), Arup Buragohanain and Proven Kr Chetry vs Bilim Moyong and Jachak Kadu (21-11 21-15), Kulang Takhi and Rahul Thapa vs Bolam Wangpan and Nokngam Lekham (21-9 21-18).
Women's Doubles (Quarter Finals):
Irani Sonowal and Kenpi Karga vs Boram Sidisow and Nani Ankha (21-13 21-15), Apali Mega and Pema Laden vs Aaya Pulu and Goniya Mihu (21-19 21-15), Boni Yapu and Taw Aniya vs Ingam Poton and Kapu Rumi (21-14 16-21 21-18).
Mixed Doubles (Quarter Finals):
Dilip Gurung and Y Mopi vs Jeeven Yema and Boram Sidisow (21-17 21-14), Tai Doyom and Boni Yapu vs B Jamja and Irani Sonowal (21-10 21-15).
Boys Singles (U-13):
Biku Ter vs Jabom Toam (15-8 15-8), Gejum Riram vs Jummi Jini (15-9 15-12), Nimi Dorjee vs Bamang Chungya (NA)
Girls Singles (U-13):
Gunzan Gongo vs Happy Ekke (15-5 15-6), Lideina Sona vs Mary Jebisow (15-0 15-3)
Nyaty Dolin vs Sneha Jebison (15-4 15-3), Napi Tayam vs Jomba Waii (15-6 15-7).
Girls Singles Quarter Finals (U-17):
Nisha Upadhyaya vs Timna Miji (21-1 21-0), Sonia Laa vs Anita Jiduson (21-2 21-5) Yumlam Mopi vs Nido Aya (21-7 21-6)
Boys Doubles Quarter Finals (U-17):
Ano Mikhe and Ena Tangu vs Lham Dorjee S and Maling Tashi (21-17 21-15), Gaurav Sonowal and Kiyon Maanpang vs Ajay Khonjuju and Sachin Degio (21-5 21-9), Domo Gamlin and Iran Gamkak vs Nyado Rigia and Rida Rechi (21-12 25-23).
Girls Singles Quarter Finals (U-17):
Bipi Gamlin vs Men Youton (21-5 21-2)