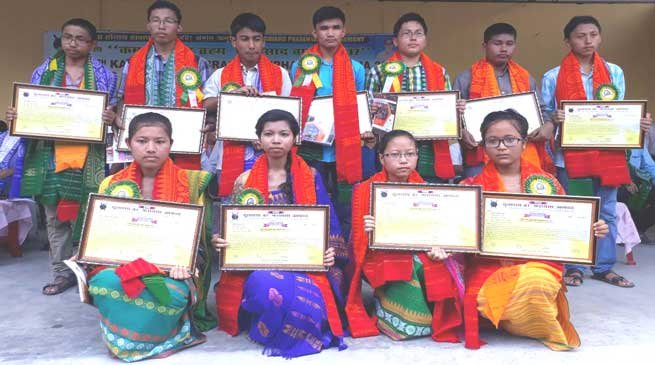 Barama  ( Baksa, Assam )
The Kamal Kumar Brahma Derhasat Banta is conferred every year to the Top Ten HSLC passing students from the Bodo Medium School across Assam since 2006 by ABSU. The selection of top ten is done every year by ABSU and by conferring this award our vision is to encourage the younger generations to be aware of the Quality Education. This initiative got started since 2006 when ABSU has declared the year as 'Year of Education' and subsequently declared 'Mission Quality Education' from 2007-2020.
The Mission Quality Education is accumulated with diverse activities of School Level Motivation, Career Counseling, Coaching camps etc. Teachers' and Parents' meetings at all level spreading awareness on quality education with the mother tongue language. Conducting Central Talent Search Exam every year by ABSU has given the opportunity to quality test from amongst the Bodo Medium students. The success story of the All Assam Top Ten holder in the Tenth Rank (10 Rank) in HLSC 2017 result Bibungsar Basumatary from Barpeta has topped the Central Talent Search Exam of ABSU, when in Class IX in 2015 and in 2016 Class X. His quality and ability was tested and tried finally proved it securing the 10th Rank in 2017 HSLC in Assam.
The special award from the All Bodo Students Union is conferred to the Top Ten Rank Holder in Assam from the HSLC 2017 SEBA conduct examination. The cash award of Rs.50000.00 is being handed over to the 10th Rank Achiever Bibungsar Basumatary.
The APSC 2016 civil servant Birbal Brahma ACS is felicitated by ABSU for his grand hard work and success.
The top ten under the award category will be awarded Citation, Aronai, Momento of ABSU and cash of Rs. 5000. 00
The 12th Kamal Kumar Brahma Derhasat Banta 2017 achievers list:
Rank
Name
Guardian
School
Total
%
1nd
Bibungsar Basumatary
Bakul Ch. Basumatary

Anjima Basumatary

U.N.Academy Barpeta Road, Barpeta
580
96.67
2rd
Ajanta Boro
Manaranjan Boro

Anjuli Boro

Sanjabwrali Swlwngsali Goreswar, Bagsa
562
93.67
3th
Bijirgiri Basumatary
Amiya K.Basumatary

Champabhoti Basumatary

U.N.Academy Amjonga,Goalpara
560
93.33
4th
Abir Basumatary
Adaram Basumatary

Gita Rani Basumatary

U.N.Academy Kokrajhar
558
93.00
5th
Moondep Ramchiary
Bipin Ramchiary

Rupaishri Ramchiary

Bathau Ashram Gwjwo Foraishali Baram, Bagsa
552
92.00
6th
Kuldeep Boro
Rajib Boro

Kanshri Boro

Hatharki Foraishali, Salbari Bagsa
550
91.67
6th
Juli Mainao Basumatary
Jitindra Basumatary

Nirmaya Basumatary

Bathau Ashram Gwjwo Foraishali, Barama, Bagsa
550
91.67
7th
Happily Brahma
Rabindra Brahma

Aroti Brahma

U.N.Academy Kokrajhar
545
90.83
8th
Dhiksha Basumatary
Sanjay Basumatary

Bina Rani Basumatary

U.N.Academy Kokrajhar
542
90.33
9th
Rahul Goyary
Bumi Goyary

Bina Goyary

Sijwo Foraishali Keshop Nwgwr
539
89.83
10th
Tirangtha Brahma
Sargoram  Brahma

Prajita Brahma

U.N.Academy Kokrajhar
536
89.33