Arunachal
Tawang- Pema Khandu Visits Manjushree Foundation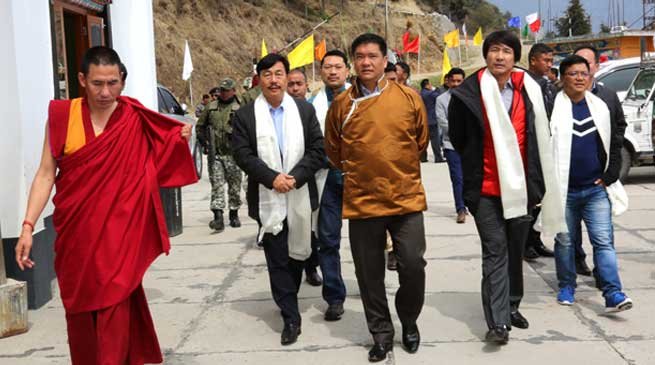 Tawang
Chief Minister Pema Khandu today paid a visit to Manjushree Foundation, a school for orphan and disabled children located just outside the town of  Tawang. The children welcomed the Chief Minister with great joy and later greeted him with a welcome song – "Bacche to bhagwaan ke murat".
In his first official visit as Chief Minister, Khandu announced that the Manjushree School shall receive special attention from state government while taking note of the institute not having received much help from the centre and the state so far.
"Govt. of India has many schemes to support schools for orphans and disabled. I will personally talk to the deputy commissioner and the head of education department for a suitable scheme to support Manjushree School," he said.
Chief Minister mentioned that the school has a special place in his heart as it is closely attached with his family since it was first started in 1998 by a dynamic and caring young Buddhist monk, Padmashree Lama Thupten Phuntsok.
The school runs with support from Rs 1.5 crore corpus fund donated by former Chief Minister late Dorjee Khandu, which was later added with another Rs 50 lakhs by RWD Parliamentary Secretary, Jambey Tashi. These funds are met to support the school children for their food, lodging and health care.
Khandu lauded the efforts of Lama Phuntsok in running the school successfully, which through his dedication could attract funds from well-wishers and organizations mostly from abroad.
Read this also- Tawang- Khandu visits Thubten Shedrubling Foundation Site
In his advice to the school children, the Chief Minister asked them to harness inner quality and talent, which in today's competitive world could give you an edge in beating competitions. Also advising the children to study with dedication and sincerity, he urged them to be in align with their culture as well.
The children on the occasion presented the guests with colourful Monpa, Tibetan, Nepali and Hindi dances.
Earlier in his welcome speech, Lama Phuntsok said the school is a non-profitable institute to support orphans, under-privileged and disabled children.
Extending his gratitude to late Dorjee Khandu, he said, "The help the school received from him cannot be erased from name of the institute. We shall ever be grateful for his philanthropic act."
Later joined by Planning Parliamentary Secretary, Zingnu Namchoom, RWD Parliamentary Secretary Jambey Tashi, state BJP President, Tapir Gao, Hydro Power Development Corporation of Arunachal Pradesh (HPDCAP) Chairman Tungri Effa and district BJP President Sange Choddup, the Chief Minister was familiarised with the new Academic Building opened in September 2015. The new building is equipped with classrooms, library, a prayer room, etc.