Itanagar
Arunachal: BMS interacts  with trade unions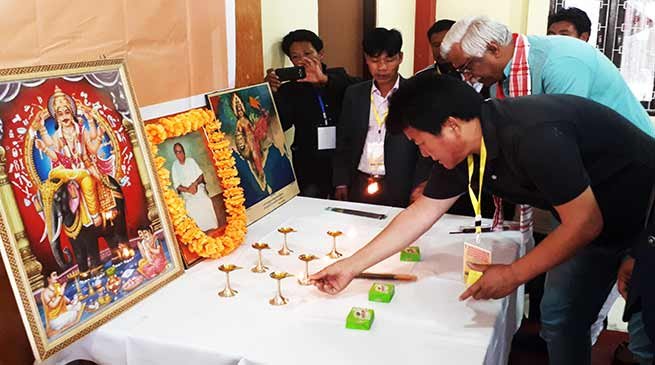 Itanagar
Bharatiya Mazdoor Sangh (BMS) organised interaction programme of affiliated and non affiliated Trade Union of Arunachal Pradesh in  Itanagar on Monday.
Addressing the function, BMS Organising Secretary North East Region Sunil Kirwai speaking as resource person said that that there are 171 lakh worker enrolled in the BMS and is a non political trade union of the country, no political leader have been enrolled in the BMS as executive members.
He said that  the workers contribute in the development of state and country but we have to check ourselves that whether we are patriotism toward our state and country.  Workers are also like a military who work in different parts and play a vital  role and attribute their labour for the development of area, state and country with source of income for economic development of the own family. We should always see that we should always stand for the nation development, work place development and then personal development of mazdoor and workers community.
Arunachal Pradesh Building & Other Construction Workers Welfare Board (APB & OCWWB)  Chairman and BMS state Convenor Jalley Sonam in his address said that four Trade Union have been affiliated with the BMS in state which  APWU, AAPAWHU, include AAPPTF, AAPMTWU
He said that there are several such organisation which have not been registered and affiliated under BMS but they to working in the interest of the workers. We have been doing our best efforts for the cause of the workers community of state but till date we have only able to learn very less and need to learn from others.
He said in the a brief period of only 7 month he being Chairman of APBOCWWB have conducted the mass interaction programme twice with all the registered and non registered organisation of state and have discussed various issue and related to the statuary and non statuary benefits for the workers of the state and sought support form one all for all round development of state and nation building programme.
Arunachal Pradesh Workers Union President and BMS Co Convenor Tadang Yangfo while placing several issue of the workers community said that that the workers are the biggest force of development and are builders and they should act in proper with sincerity, dedications devotion so that our state development does not get hammered even we have lots of grievances against the government or the authority.
AAPPTF President Dobing Sonam, AAPWU Working President Toku Tagu, AAPMTWU President Kamku Yangfo, Senior Trade Union leader Changma Tajo, AAPEWU President Ringu Chapo, AAPPWU President Phasang Amar,  AAPPHEWSWU Kipa Tame, Capital Complex Sanitation adn Municipal WU Khoda Neni, representative from various trade union leaders share their views and give their suggestion and listen to various problems faced by the unions and union leaders. They also placed their grievances and issued faced by the workers communities.