North East
Sonowal Commissions Dibrugarh Town Protection Dyke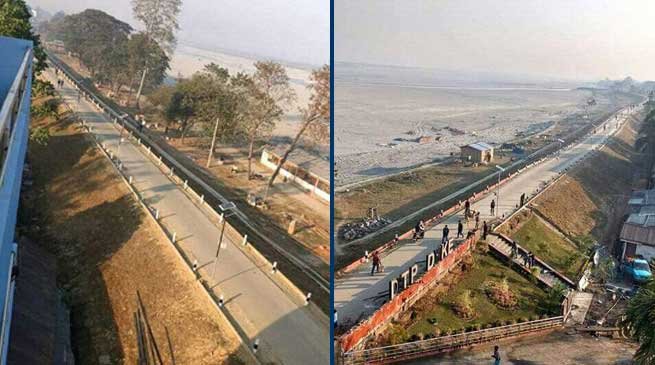 Dibrugarh
By Anil Poddar
Assam Chief Minister Sarbanada Sonowal announced  that his  Government will send an expert committee to China to carry out an in-depth study on taming of Huang-He river once termed as a sorrow of China to replicate the same to tame the Brahmaputra in Assam.
Announcing this at a function held at Dibrugarh to commission Dibrugarh Town Protection Dyke, Sonowal said that the expert committee will undertake study on technical know-hows of taming the Huang-He river so that the Brahmaputra can also be controlled in line with the Yellow River.
Inaugurating Dibrugarh Town Protection Dyke, a scheme funded by Asian Develoment Bank, Sonowal termed it as an important day for the people of Dibrugarh as this historic city for the last 180 years has been languishing in perennial flood and erosion. People have been demanding for a permanent solution and a result of which Dibrugarh Town Protection Dyke has been taken up involving a budgetary outlay of Rs 29,79,11,426/-.
Chief Minister Sonowal said, "It is a high time the world must know the history and civilisation of Assam and with this aim in view several steps have been taken up including the measure to tame the potentials of the Brahmaputra. Many term the Brahmaputra as the sorrow of Assam. However, the judicious use will change the perception and use the river to  catapult growth of the State".
Sonowal also sought people's cooperation in carrying out the survey and protecting the embankment. Youths' role is particularly highlighted in this regard. Stating that good governance is a collective responsibility, he urged upon the people to keep constant vigil on the functioning of the present State Government.
Water Resources Minister Keshab Mahanta, MP Rameswar Teli and several MLAs were present on the occasion.