North East
PM dedicates BCPL and wax plant to the Nation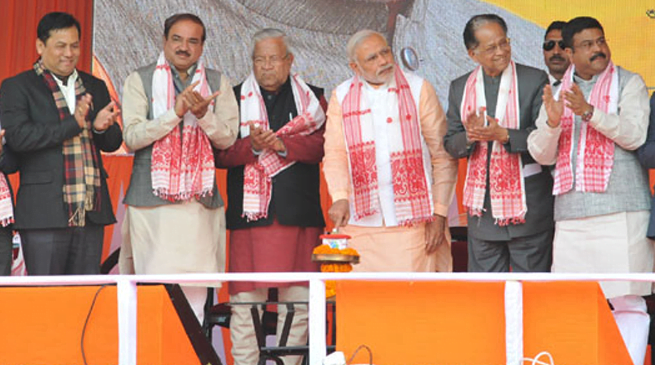 Dibrugarh
The Prime Minister, Shri Narendra Modi, today dedicated to the nation, Brahmaputra Cracker and Polymer Limited  (BPCL ), and a  wax plant of Numaligarh Refineries Limited.
Speaking on the occasion, the Prime Minister said that the two projects being dedicated to the nation today, are important for two reasons – (a) for the value addition they would achieve for natural raw materials; (b) for the employment opportunities they would create for the youth of Assam. He said that with the dedication of these projects to the nation, there was joy (Anand) across the country and all-round joy (Sarbananda) in Assam.
Highlighting the importance of completing projects in time, the Prime Minister said this would ensure employment generation, and avoid massive cost overruns. He said rapid industrial development of the country is necessary to create employment for India's youth. In this context, the Prime Minister mentioned his PRAGATI initiative, which he said is giving impetus to stalled projects worth lakhs of crore rupees.
The Prime Minister reiterated that eastern India must develop, for the all-round development of India. In this context, he said the Union Government is paying special attention to the North-Eastern region by boosting infrastructure and connectivity.
The Prime Minister said that the initiatives of the Union Government, including MUDRA and Start-up India, were aimed at creating fresh opportunities for the youth. He said employment opportunities have to be created not just in big cities but in smaller towns too. He said the Union Government is working on the principle of cooperative federalism, and both the Centre and States have to work together for development.