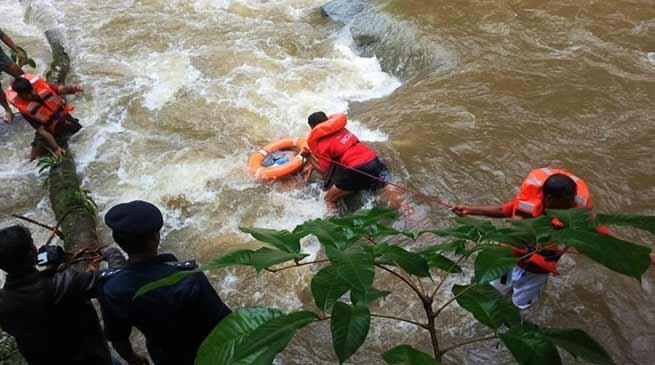 NDRF team retrieved body of a boy ( 14 ) who was drowned in Pare river on Tuesday. 
---
Itanagar
A 14 year old  boy namely  Kara Gungte  s/o kara tata resident of Yapso Lebia panchayat Sagalee, district Papumpare was drowned in pare river  due to flash flood Tuesday evening  at around 5 pm . He was a student of class IX .
Few sources told that the boy went to the river for fishing when this unfortunate incident occurred.
Today,  two teams of 12 bn of NDRF  having 43 personnel constituted, one team was led by Sanjay Prasad Sharma Ast. comdt  rushed to the incident site at Sagalee, and started search operation at at about 09:30 am.
Another team led by inspector Inder Singh deputed at Doimukh bridge on the downstream  of pare river.
NDRF team deployed at Yapso Lebia village in sagalee incident site was searching  on foot in the course of the river bank.
After covering a distance of about 01 km at about 01:30 pm NDRF  team  found  one dead body stuck in rocks in the river bed and retrieved from the river which was later identified as  kara gungte  s/o kara tata.
NDRF  team handed over the dead body to local police for further  formalities.
12 NDRF Dy. Commandant P N Singh informed that the operation was closed at  02:30 pm. S lowang, ADC  Sagalee has highly appreciated efforts of NDRF team for successfully retrieved the dead body.
Local public also hailed district administration and NDRF  team for swift action rendered by rescuers. and NDRF  teams moved for their stationed locations.