Arunachal
Pema Khandu took stock of the condition of the Balipara Charduar Tawang Road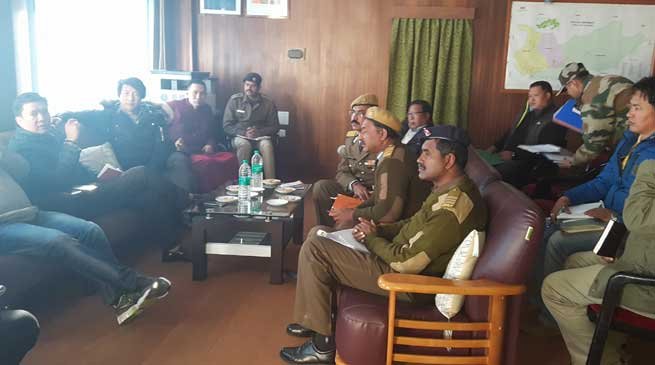 Tawang
Chief Minister Pema Khandu took stock of the condition of the Balipara Charduar Tawang (BCT) road in a meeting held with BRO officers at DC's Chamber on Tuesday. The meeting which was attended by Jambey Tashi MLA cum Parliamentary Secretary Lumla, Tsering Tashi MLA Tawang, SE (Civil) Commander 763 BRTF, SE (Civil) Commander 42 BRTF, EE (Civil) 14 BRTF, ZPC, DC, SP and Padmashree Lama Thupten Phuntsok saw a detailed review of the road wherein  stretch by stretch report on current status was given by the  officers present.
They also placed before  the CM the  problems including fund constraint being faced in execution of work. CM assured to address the problems highlighted and said that those would be taken up at higher levels.However  considering the slow pace of work, he opined that the same can be expedited by delegating work to a particular organisation after tendering process with BRO remaining the nodal agency.
Land acquisition cases/compensation issues and other issues with respect to BRO roads within the district were also discussed.
MLA Tawang also requested the BRO to work on war footing before the onset of monsoon with increased workforce . Further, he asked  for early maintenance of Changprong to Tawang monastery  via Nehru market road, which is to be followed during the proposed visit of His Holiness the Dalai Lama in March.