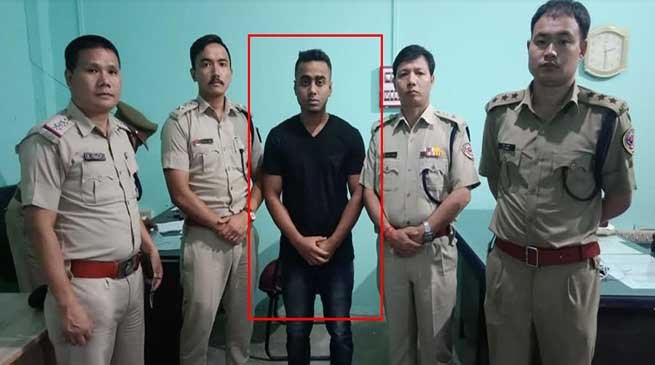 CapitaL SP Tumme Amo further appeal all section of society to maintain peace, tranquility and communal harmony.
---
Itanagar
The man wanted in the October 9 Naharlagun incident where he made communal and threatening statement to other communities arrested on Thursday evening, informed capital police.
Capital Police chief Tumme Amo inform that one person who was wanted in connection with spreading communal disharmony and hatred statement in the public place in the Naharlaugn township followed by procession and protest march by hundreds of people specially from non-APST  in the street of Naharlagun township which have created traffic jam and shutdown of shops  without any information within a few hours.
Amo informed  that "I have no words to appreciate all officers and men for their excellent performance of duties and dedication they have shown today" It was a challenging day. ASP Capital, Sumit Kr Jha, both SDPOs Kamdam Sikom & Rike Kamsi, DySP (Hq) Moyir Kamduk, OC PS Nlg Kiksi Yangfo and other officers and men on ground with me did outstanding efforts at the most critical point of time to normalize the situation in Naharlagun township on Thursday morning".
While thanking the local people Amo said " I also thank all my brothers & sisters who heard me and took my words to their hearts about our duties to ourselves and our states instead of depending on others for every work and, thereafter dispersed after my assurances that the shops and business establishment would be all open today and that the person who made communal and threatening statement would be arrested within a few days:.
'I m very happy to announce that both these assurances have been complied with 100% opening of shops and business establishment today and arrest of the said person in the evening'.
Amo said that one person Mantosh Saha, 23 years of Naharlagun have been arrested wide Naharlagun Police Station case No-170/19 u/s-153, 153 (A), 506, 34 IPC and the accused has been remanded to seven days judicial custody,
Amo further appeal all section of society to maintain peace, tranquility and communal harmony.
HELP US / DONATE US, TO DELIVER THE INDEPENDENT JOURNALISM