Amazing
Chinese Fruit Vendor Finds Novel Way to Sell Watermelons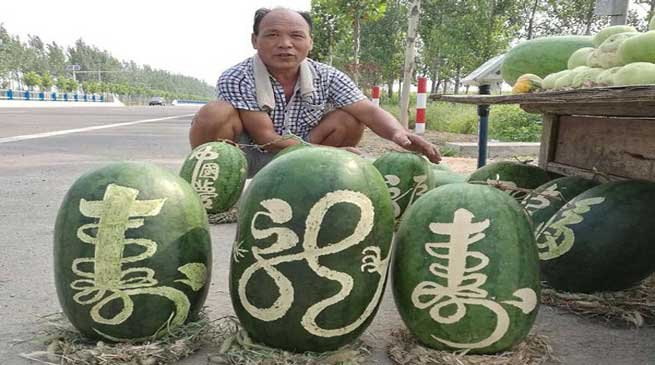 Web Desk
A farmer in China has found an novel way to sell his produce of watermelons by etching beautiful designs on the watermelon peel with his fingernails.
Gyo Zinliang of China has managed to sell a lofty 3000 kgs of watermelons in a mere 11 days by adopting this new technique. His business was going through hard times before and he came up with the idea of etching designs on the outer surface of watermelons while thinking of ways to save his business and increase sales.
He tested his idea on two watermelons by carving socially aware messages on their outer surface which attracted a large number of people to his makeshift stall. The two watermelons were sold immediately. Having witnessed the success of his idea, Zinliang carried on with it and now he can carve any design in just 10 minutes.
Popular messages etched by the fruit seller include the words 'well wisher' and 'prayer' in Chinese as well as hymns and verses from religious texts.  Customers also get birthday wishes and other messages etched onto these watermelons.