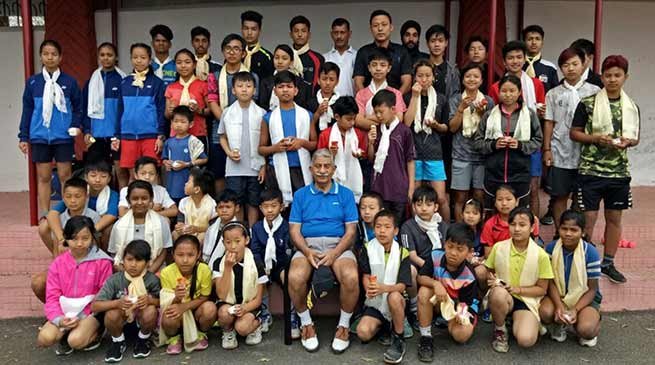 Itanagar
Governor of Arunachal Pradesh Brig. (Dr.) B.D. Mishra (Rtd.) today interacted with the young children who are undergoing  weekly Badminton Coaching and practice session for class two onwards  at Rajbhavan Badminton Club .
About 8 weeks before the Governor, while on his morning walk had met these young children being exercised for physical fitness by their Coach, to prepare them for the game of badminton on a traffic moving road side.
The Governor finding them exposed to the risk of vehicular traffic on the road sides got  concerned about their safety. He accordingly advised their coach and invited the children to Rajbhavan Helipad area, a protected place, where the children could run and do their toughening exercises without being exposed to any physical risk and inconvenience.
Consequently, every Sunday, when the young children do their exercises at the Rajbhavan Helipad, the Governor, when in station, invariably meets them and encourages them to practice well and become good badminton players.
On 8th April 2018,in the morning, the Governor hosted the children, 45 in number, to a refreshment of their choice after their tough work out of over an hour. Going by the choice of the children, the Governor offered them Gauva juice, cake, chocolate, ice cream and coffee.
The Governor also draped each child with a traditional Khada as a mark of o his appreciation for their sports pursuits. The children were very happy to interact with the Governor.
Though the Governor was on his morning golf round, in his shorts and sports shirt despite that, on the request of the children, the Governor posed for a group photograph with them. Before dispersing the Governor and the children with full  enthusiasm, called out  the national slogan, Jai Hind, Jai Hind, Jai Hind.