Itanagar
Arunachal: Develop their artistic quality, Jikke Tako says to Artists of the states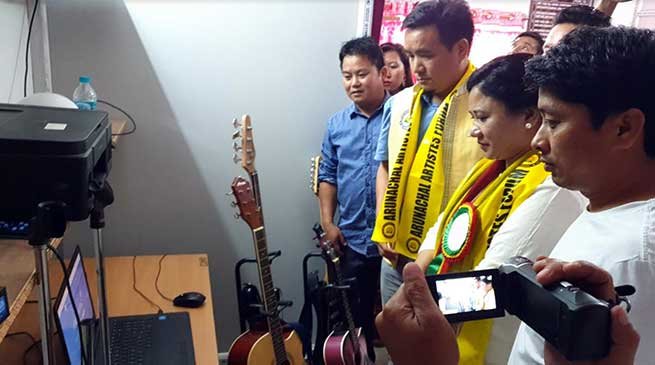 Jikke Tako appeal artiste community to shoulder their responsibility for promotion of culture tourism and development of state.
---
Itanagar
Tali MLA Jikke Tako today appeal the artist community of state to develop their artistic quality so that the state can also represent in the national and international arena of songs and music, art, film, drama and acting. He also appeal them to join the team Arunachal for all round development of state in the field of culture tourism.
Tako while inaugurating the office of the Arunachal Artistes Forum (AAF) here at E Sector opposite of ICICI Bank and launching of the website of the organization lauded the role of artiste community of state and emphasis them to work hard for unification of all communities and tribes of state with artistic quality and music and creativity for all round development by one artistic quality of songs and music and other quality.
Tako said that state government under the leadership of Pema Khandu has also decided to promote the art, culture and a film institute is coming up and soon there will be flow of artist from various parts of state but we should see that our own people should come up in most professional way and can play a vital role for development of  art, culture, drama and films etc for preservation of age old cultural heritage and also to join the national community in making themselves at par with.
Watch Video 
He assured all support for promoting the artist of state and will soon meet Chief Minister in this regard.
He further said that artist can play a vital role in molding the society in a direction which can help in preserving the tradition and culture and can also promote culture tourism.
Renowned singer and founder Chairperson of AAF Taba Yall Nabam who attended the function as guest of honour in her address elaborated the  journey of AAF since 2004 in the development of songs and music and also giving opportunity to the younger generation.
She said that now time have come and all need to develop the quality and work untimely for the promotion songs and music and culture in state.
She emphasis the need of infrastructure in the field and appeal all to extend help and coordinated support for promotion of songs, music and culture tourism of state so that our state also shine like other in the national and international forum. She added.
She further appeal all to use the office as temple and do hard labour for promotion of art and proper representation of state in world outside.
AAF Chairman Takam Dado Tallom  spoke on the need of support to the cause of development of culture, art and music in state. He appeal all members of the forum to shoulder in their own way for the development of state in the field of music and singing and other cultural activities.
HELP US / DONATE US, TO DELIVER THE INDEPENDENT JOURNALISM