National
19th Asian Games : Arunachal athletes denied visa
Union sports minister Anurag Thakur cancels visit to China for 19th Asian Games; OCA officials respond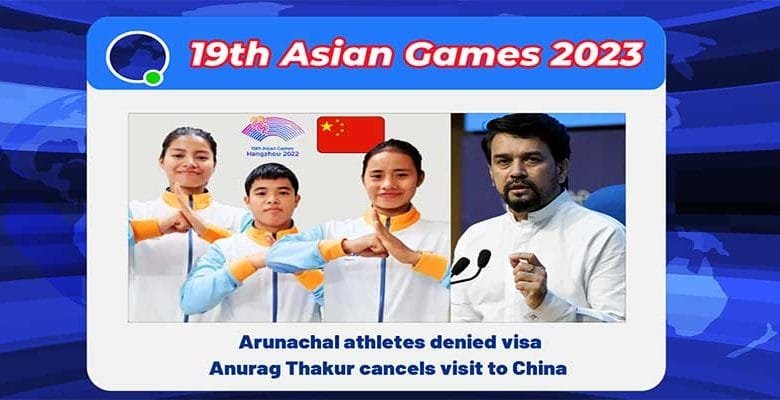 NEW DELHI: India has strongly criticised China after three athletes from Arunachal Pradesh were denied entry to the 19th Asian Games in Hangzhou. Wushu players Nyeman Wangsu, Onilu Tega, and Mepung Lamgu were unable to participate in the Games because China refused them clearance and offered stapled visas instead. Additionally, their accreditation cards, which typically serve as visas, could not be downloaded.
India has lodged a diplomatic protest against China's discriminatory actions and described them as "targeted and premeditated," contrary to the spirit of the Asian Games. As a sign of protest, Union sports minister Anurag Thakur cancelled his planned visit to China to witness the games.
Also Read- Wushu team set for World University Games in China held back due to 'stapled visas' for Arunachal players
China defended its actions by claiming that the players were not denied visas but were offered a "different visa," which the Indian athletes refused to accept. This incident is a repeat of a similar occurrence in July when the same three players from India's northeastern state were denied entry through regular visas.
The Ministry of External Affairs spokesperson, Arindam Bagchi, stated that the Chinese authorities had intentionally discriminated against Indian athletes from Arunachal Pradesh by denying them accreditation and entry to the games. He emphasised India's rejection of differential treatment based on domicile or ethnicity, asserting that Arunachal Pradesh is an integral part of India.
Bagchi added that a strong protest had been lodged in both New Delhi and Beijing against China's deliberate and selective obstruction of Indian athletes. He pointed out that China's actions violate the spirit of the Asian Games and the rules governing their conduct, which explicitly prohibit discrimination against competitors from member states. In response to China's actions, India has reserved the right to take suitable measures to safeguard its interests.
Olympic Council of Asia's acting president Randhir Singh indicated that discussions with the Chinese side were ongoing regarding this issue, and it had been taken up in a Working Group meeting.
NCP Condemn Denial of visa to Bamang Tago by Chinese Embassy
Wei Jizhong, chairman of OCA's Ethics Committee, claimed that Indian athletes already had visas to enter China, and China did not refuse any visas. However, the athletes reportedly did not accept the provided visas. He said that this was not an issue for the OCA since China had an agreement to allow all athletes with certified eligibility to compete in China.
It was reported that out of the three athletes, only one managed to download the accreditation. However, she was informed that she could only travel up to Hong Kong using a regular visa, after which a stapled visa would be required.