Itanagar
Restructuring of State Health Insurance Scheme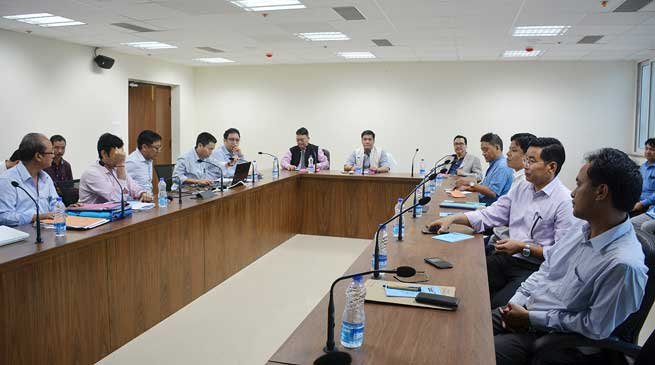 Itanagar
Chief Minister Pema Khandu today set the tone for restructuring the people-friendly health insurance scheme of the state government– Arunachal Pradesh Chief Minister's Universal Health Insurance Scheme (APCMUHIS) – for greater good of the people.
Constituting a committee to be headed by Tezu legislator Dr Mahesh Chai as Chairman and Special Secretary Health Prince Dhawan with members from the state health department associated with APCMUHIS, he called for a comprehensive first-hand report with suggestions on restructuring the scheme by October 30 next.
The Committee will study in detail – if needed make field visits to empanelled hospitals – the implementation process of the scheme at ground zero and suggest the state government ways and means to do away with the hurdles faced by beneficiaries in availing cashless treatment in empanelled hospitals.
"This scheme is one of the most benevolent that provides direct benefit to the people, particularly the poor who cannot afford medical expenses. This must continue and we are committed to do away with all the issues confronting its smooth implementation at the ground level," Khandu asserted while chairing a meeting here today with departmental officials, representatives of New India Assurance Company and Third Party Administrator (TPA).
Insisting that the universal health insurance scheme should be 'seamless', the Chief Minister called for its restructuring so that beneficiaries can avail the scheme without any hurdle whenever in need.
"We have learned many things in the past two years of its implementation. We need to now correct the process wherever there is any loophole and its benefits should flow to the needy seamlessly," he observed.
Taking feedbacks from health officials, Khandu categorically pointed that the scheme is picture-perfect at the policy level. However, he said corrective measures need to be adopted by the TPA (which deals with insurance claims directly with patients) and the insurance company at the implementation stage besides adopting a monitoring mechanism for empanelled hospitals, especially private hospitals outside the state.
Attending the meeting, Deputy Chief Minister Chowna Mein, Principal Advisor to CM Kameng Dolo, Health Minister Jomde Kena and legislators P D Sona, Gabriel D Wangsu and Bamang Felix made several suggestions to streamline the scheme besides pointing out difficulties faced by the people while availing its benefits in hospitals.
The suggestions made would be incorporated in the final report of the Committee.
Meanwhile, responding to the issue of non-payment of claims to respective hospitals empaneled under the scheme particularly that of Tomo Riba State Hospital Naharlagun that caters to the most number of beneficiaries, New India Assurance Company representatives assured that all pending claims will be scrutinized and released soon. However, the Chief Minister directed the company to do so within 15 days.
The meeting was also attended by the Finance Commissioner, Health Commissioner, Secretary to CM, Special Secretary Health and Chief Medical Superintendent of Tomo Riba State Hospital.