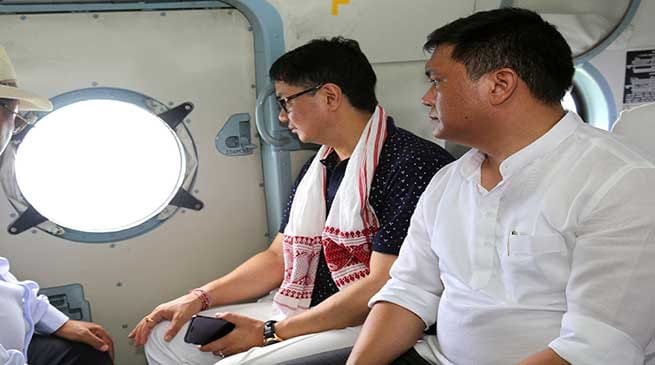 Itanagar
Chief Minister Pema Khandu made an aerial survey of flood-affected areas of Pasighat, Mebo, Dambuk, Mahadevpur and Diyun accompanied by Union Minister of State for Home Affairs Kiren Rijiju, Deputy Speaker Tumke Bagra and Parliamentary Secretary for Disaster Management Kaling Moyong.
The Chief Minister was also accompanied by a central team comprising of NITI Aayog Joint Secretary Vikram Singh Gaur, IG NDRF Ravi Joseph and MHA Disaster Management Director Gopi Chandra Chawania to assess the flood damage.
The team after taking off from Itanagar helipad on a BSF helicopter made an aerial inspection of damage along the Likabali-Aalo highway. However, the survey had to be cut short due to inclement weather and the team could not reach Aalo and had to fly to Pasighat.
The team took stock of the flood condition along the Pasighat-Dambuk highway. Thereon they flew over Namsai, Mahadevpur and Diyun area where the high level team had a look at the flood condition.
Later speaking to reporters after completion of aerial survey, the Chief Minister thanked the Prime Minister for prompt response by sending in a central team under Rijiju.
He told reporters that flood situation across the state is being personally monitored and instructions have been issued to all deputy commissioners to take stock of the flood situation in their respective districts.
He also said restoration works would take time as rains is unlikely to subside soon.