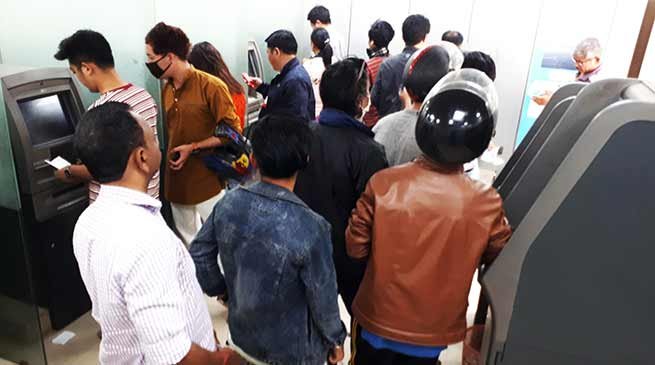 Itanagar
By Manoj Singh 
Banks and ATMs are appearing to be running dry again in Itanagar as well as in Arunachal, because bank authorities are dispensing only 20-30 %  cash in ATMs.
The customers and general public in capital complex have been facing hard in getting cash from ATM as well as from different bank in capital complex since last 10-15 days.
The students and many people those who have urgency of cash but ,  ATM without cash have hit hard in their day to day life.
One Takar Pali said that I come from Aalo and even don't have any account in capital.  i am roaming from ATM to ATM and this is fifth ATM and I could find cash here and have wasted more than a hour for it.
One old lady said that "I have come to town to buy some clothes for my grand children's but non availability of cash in more than five ATM have made me tired and I am waiting that I may get money from Bank Tinali area".
One Young boy coming out of SBI ATM Located near Higher Secondary School, Kankar Nallah said that due to such practice of the Banks the last Banti and Babli incident might have damaged so many ATM in capital complex. I have no money and have to refill my motor bike what to do he said.
SBI Customer Service and Channel Management Officer, M. C. Deka inform that the SBI have so far 72 ATM in capital complex and almost all are working, More than forty ATM which were damaged earlier were also repaired and renovated. there are shortage of cash due to which we are unable to dispense sufficient cash in the ATM booth.
For last ten days we are only able to dispense 20-30 %  cash in ATM due to which there have been rush in the booths, moreover March ending might be another reason for rush. We are unable to provide cash to the customers and card holders  due to non availability of sufficient cash, he said.
Assistant General Manager, Tarun Kumar Boro said that it is a fact that there have been shortage of cash with SBI but we were expecting consignment on March 20 but today is 21st and hope that expectation may goes to Monday next.
We are not receiving cash from RBI and as per information they don't have sufficient cash right now. We were ask to take the currency of small denomination of Rupees Ten, Twenty and Fifty but it too have not arrived. We hope that that too may be utilised to the customers Boro said.
He said that we are facing this problem for last ten days and hope that it would be resolve soon. He however appeal the customer to go digitally and online fund transfer through electronic system so that many works would be done where hard cash is not required.