North East
NF Railway Celebrates 68th Republic Day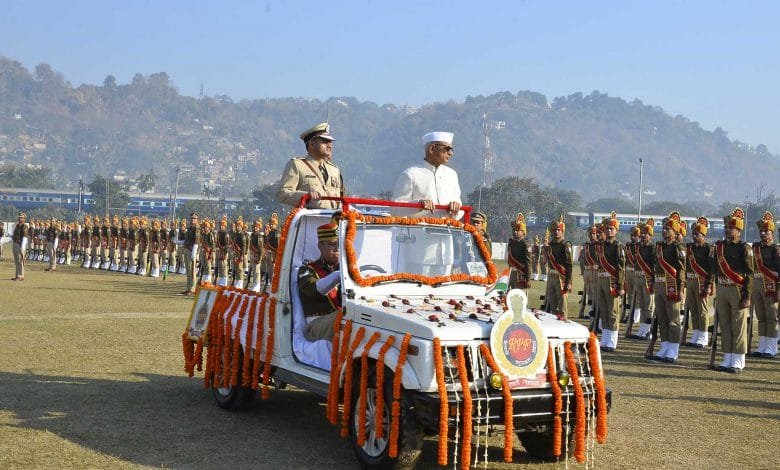 Guwahati
Northeast Frontier Railway celebrated the 68th Republic Day of our Nation in befitting manner. The central programme was held at the Maligaon Railway stadium, where Chahatey Ram, General Manager of NF Railway unfurled the National Flag in presence of a huge gathering of railway officials and their family members. The General Manager also inspected an impressive March-past by RPF contingents, Territorial Army contingents, Civil Defence, school children and Bharat Scouts & Guides.
An impressive cultural programme organised during the occasion was also enjoyed by everyone present. The Republic Day was also celebrated in all the five Divisions of N.F.Railway viz. Tinsukia, Lumding, Rangiya, Alipurduar and Katihar, where the Divisional Railway Manager unfurled the National Flag in presence of Divisional railway officials and their family members.
In his speech General Manager emphasised about the need to be totally in synchronization with the vision of our Hon'ble Prime Minister and Hon'ble Railway Minister towards making Indian Railway a growth engine for the nation. He said that, safety of railway travellers is of utmost concern and is one of our paramount duties. In view of the current situations, the need has arrived to put in more and more efforts towards ensuring zero accidents. There cannot be any laxity or compromise as far as safety is concerned. For ensuring safety of road users, 108 Gate Mitras have been provided to sensitize road users about danger of ignoring approaching trains. 21 Level Crossings gates have also been closed down and 29 Un-Manned Level Crossing gates have been converted into manned ones.
General Manager informed that keeping trains and premises clean and hygienic is a big challenge for Indian Railways. Efforts are on to ensure that all stations and trains remain clean by sensitizing staff and customers. However, these efforts need to be sustained with more periodic and systematic drives.
General Manager also informed that it is a matter of pride for NF Railway that the first-ever Bio-Gas plant in a shed or workshop in Indian Railways was commissioned in New Guwahati Diesel Shed last month. It will not only save fuel cost but also help in bio-waste management.
General Manager assured everyone about the committed to ensure safety of wild elephants to the best of our abilities and informed that about 20 cases of elephant dashing could be avoided by adopting a number of proactive measures like intensive patrolling and close coordination with forest dept.
General Manager also informed that, in view the ever-increasing demand of passengers for new train services, 24 new passenger-carrying trains have been introduced in the current year, including three on World Heritage Darjeeling Himalayan Railway. Besides, eight trains were extended and the frequency of two trains increased. Fifteen trains were provided with a total of 20 additional stoppages so that people of different areas can avail these services. 14 pairs of trains have been permanently augmented by attaching 34 coaches thereby adding more than 2500 additional berths/seats. This year four freight terminals and one coaching terminal have been opened.
Later the General Manager along with members of N.F.Railway Women's Welfare Organization distributed fruits and other items of medical importance amongst the admitted patients of the N.F.Railway Central Hospital, Maligaon. An Ayush clinic was also opened at the hospital for the benefit of patients.