Arunachal
Mohesh Chai Visits Pasighat and interacted officials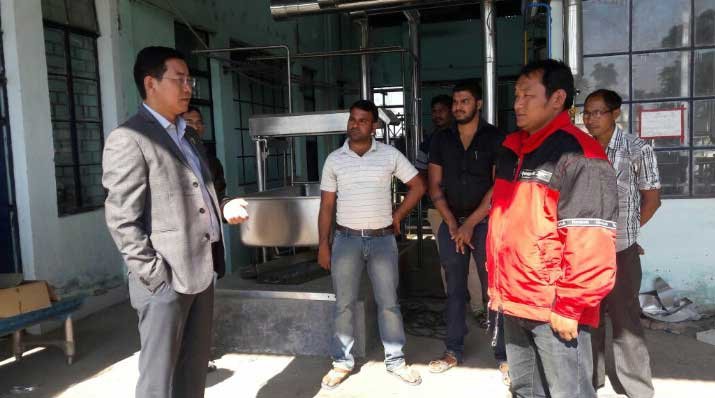 Pasighat
Animal health care service and prevention of animal diseases is a priority for maintenance of a healthy stock for optimum production, stated Dr. Mahesh Chai during a surprise visit to Berung piggery breeding firm in Pasighat, VTI (Veterinary Training Institute), DVO   office and Veterinary Hospital at Pasighat on Tuesday.
The minister for AH&V and Art & Culture Chai along with DVO Dr. Jikom Panor, Key Village Officer Dr. Naku Taloh and DACO A Jamoh inspected the existing infrastructure and facilities (including hostels of trainees) at VTI and interacted with the officers, staffs and trainees. At Berung Pig Breeding firm, the minister appreciated the officers for excellent management and opined that creation of suitable infrastructure for breeding, feeding and management of livestock and products has to give due importance. The local production has considerably increased but there is further scope for which efforts shall be made, Chai added. He also took stock of ongoing construction of "IDDP Dairy Plant" and interacted with the plant engineer and assured to have detail discussion with the Managing Director Dr. Migo Riba at Nirjuli shortly for further course of action.
During his maiden visit to DVO office, Minister Chai visited Liquid Nitrogen Plant and Veterinary Hospital. Emphasizing the team spirit, he urged the officers and staffs to work with a missionary zeal following the young and vibrant Chief Minister Pema Khandu's call as "Team Arunachal" and further added that the department has to provide extensive supports to the farmers/producers so as to promote scientific rearing of livestock with consequent generation of employment avenues in the rural areas. To bring about a developmental change in the sector with broader objectives, the department should put all efforts to protect livestock from the ravages of diseases through treatment and preventive vaccinations and introduce improved breeding techniques for upgrading the local stock. Building up of adequate technical and professional manpower, they should also ensure better animal husbandry practices through adoption of extension and research. He felt the need for a sophisticated operation theatre for ensuring painless operation of animal and additional doctor to enable the hospital facilitate round the clock health delivery.
Chai, who is also minister of Art and Culture has stated that aims and objectives of the department is propagation, promotion and development of art and culture as an integral part of composite culture of Arunachal Pradesh. Art and Culture represent the zenith of mental and emotional evolution of mankind. They denote the aesthetic dimension of progress. Activities of the department should not be limited to cultural presentations in national and state events but to preserve and promote legacies of art and culture with a rich heritage through adopting pragmatic plans and policies.