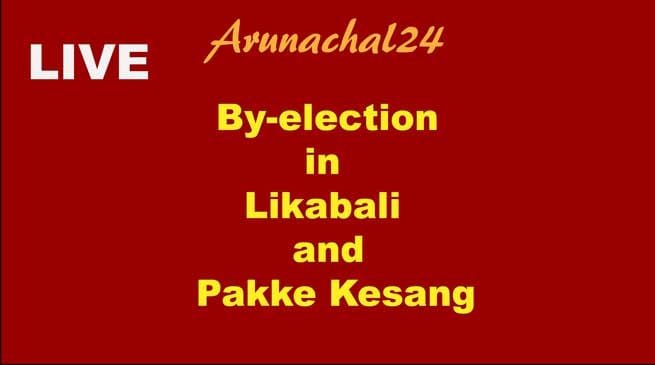 LIVE 
Itanagar
By Manoj Singh
UPDATE AWAITED …….?
21th December.
08:15 am-       
Polling Begins-
Polling has now begun in  Arunachal Pradesh's Pakke-Kessang, Likabali,
The Pakke-Kessang seat is all set for a straight contest between former Deputy Chief Minister Kameng Dolo, who is contesting on a Congress ticket and BJP nominee BR Waghe
the Likabali constituency would see a multi-cornered contest with four candidates in the fray. They are Kardo Nyigyor (BJP), Modam Dini (Congress), Gumke Riba of Peoples Party of Arunachal and Independent candidate Sengo Taipodia.
A total 7,455 voters would exercise their franchise in 29 polling stations in Pakke-Kessang, while 10,608 electorates would cast their votes in 39 polling stations in Likabali constituency.
Elaborate security arrangements have been made and state police,
ITBP and four companies of central paramilitary forces have been deployed.
The critical polling booths would be covered by CRPF and IRB personnel.
20th December. 10:40 pm
Preparations for by-election to Likabali  and Pakke Kesang Assembly Constituency have been worked out elaborately to ensure fair and free poll tomorrow. Altogether six candidates filed their nominations for the by-election to the Pakke-Kessang and Likabali assembly seats.
The Likabali seat had fallen vacant after Health and Family Welfare Minister Jomde Kena passed away on 4 September this year at a hospital in Guwahati.
By-election to the Pakke-Kessang seat was necessitated after the Gauhati High Court declared null and void the election of Kameng Dolo from the said constituency during the March 2014 polls. The order came after an election petition was filed against him by BJP nominee and former minister Atum Welly.
The Lower Siang District Deputy Commissioner Shri A.K. Singh, Returning Officer Shri Bani Lego and ARO Topek Kakki are closely monitoring the moment of polling personnel to respective polling booths. Almost all Presiding and Polling Officers from West Siang District have arrived and reaching their Polling Stations.
The security has been tightened up in all polling booths, especially at Kangku Circle to contain any law and order situation there. The Election Observers are also closely monitoring the process here.