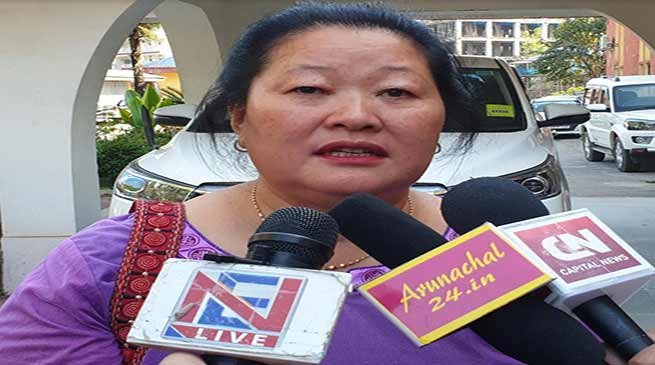 JDU Candidate Toko Yaram met Chief Electoral officer (CEO) and filed complaint letter seeking justice
---
Itanagar
The Janta Dal (United) aspirant for the 16-Yachuli Assembly constituency, whose nomination paper had been rejected by screening committee and Returning Officer (RO) has alleged "favouritism" and "discrimination" in the rejection of her nomination paper.
Yaram who met Chief Electoral officer (CEO) and filed a complained letter seeking justice on Thursday said she would very soon file a petition with the High Court challenging the rejection order.
The returning officer (RO), Yachuli has rejected candidature of Yaram on the ground for failing to fill few mandatory fields in form 26(affidavit) in her nomination paper.
Speaking to press persons here at the premises of Nirvachan Bhawan, she termed the ground on which Returning officer(RO) rejected her nomination paper as completely "unjustified" and indicates "partisan attitude" of the RO/ERO.
She went on to allege the Returning officer (RO) might have rejected it at the behest of a few influential people as her passing the scrutiny test could pose a problem to her foes.
Watch Video 
She also alleged that rejection of her candidature was staged managed and preplanned to kick her out from the race.
Moreover, Yaram is hopeful that ECI will deliver justice to her after hearing her plea and let her partake in the democratic process
Defending the claims made by Yaram, Advocate, Tarh Torum while refuting the ground on which her nomination paper was rejected claimed that there was any grave error made in the nomination paper to be rejected.
" The Subject clause 6.9.1under ERO Book as shown by RO as the ground of her nomination paper being rejected is insufficient enough to disqualify her form as RO/ERO can only reject it under article 84,102 and 173 and part III of part of RP Act 1951," Torum claimed.
He also informed that earlier on the date of filing the nomination form the RO detected a minor error over the document of electricity bill in the nomination form which was after correction submitted in the next day of nomination.
Despite making the correction, Torum informed that the RO rejected it giving yet another reason that the few columns in the affidavit were left unattended or not specified clearly.
"It is an absolute injustice towards Yaram's.  We are quite surprised," he said adding they had submitted a complained letter to election commission of India also seeking immediate intervention on the matter and it is upto his client Toko Yaran to decide for legal remedies by way of filing of election petition.
However later in evening the Additional Chief Election Officer Kangki briefing the media said that the candidature of BJP candidate from 16 Yachuli declared elected unopposed after the nomination paper of JD(U) candidate Toko Yarum was rejected by the Returning Officer of the constituency.