Itanagar
Chowna Mein Asked NABARD to invest more fund in Rural Areas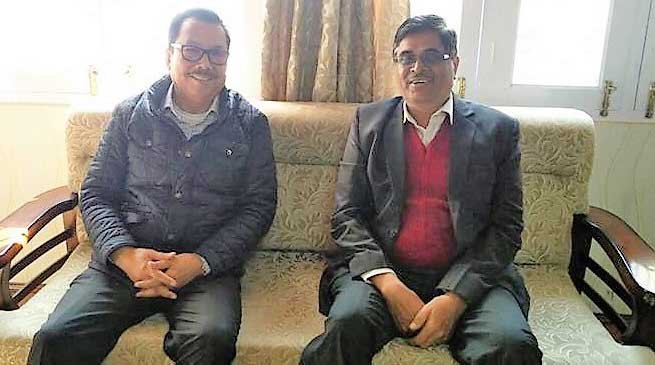 Itanagar
Dy CM Chowna Mein asked the NABARD Officials to invest more fund in Rural Infrastructure Development Projects and also to provide financial assistance in terms of easy loans to the farmers of the state citing that our state has good scope for agriculture and horticulture crops. He said efforts are needed to add value to the crops so that the farmers in the state can get better price and yield.
Sankara Narayanan, General Manager who is the Officer-In-Charge of NABARD, Arunachal Pradesh Regional Office along with K. Jagadeesh, AGM called on Chowna Mein, Deputy Chief Minister in his official residence today.
He also asked the NABARD to conduct awareness regarding digital banking and to educate the people about the less-cash transactions especially in rural villages.
Mein further said that the State is opening up to new ideas and the state govt has been taking up a lot of initiatives to tap the huge unutilized potentials.  He further said that there is a need to identify potential through remote sensing and conduct soil testing to identify and suggest measures to improve productivity and suitability of crops.
Narayanan apprised Dy CM about the progress under RIDF during the year.  He informed that NABARD has already sanctioned Rs. 237 crore and will sanction another Rs. 18 crore soon for 21 projects under Rural Infrastructure Development Fund to the State Government. The fund would be utilized for improving infrastructure in road connectivity (112.60 km), rural drinking water supply, school education and flood protection projects. These projects intend to benefit about 1.80 lakh population in 146 villages in eleven districts, he informed.
Narayanan said that the NABARD sanctions amounted to 127% of allocation for the state under RIDF which is the highest in the country this year.  He also stated NABARD has already released Rs 84.30 crore in respect of ongoing projects and expects to release Rs 80 crore more for projects sanctioned during the year. The sanctions and disbursements during the current year are the highest so far to the state.
He also briefed Dy CM about the measures being taken up by NABARD for less-cash transactions and digital banking like granting of assistance to commercial banks for setting up solar based V-Sat facility in remote locations, support to Arunachal Pradesh Rural Bank and Apex Bank for issuing Rupay Cards to Kisan Credit Card holders and for supply of PoS machines.  He offered to work with the government in its endeavour to create awareness about digital banking and financial literacy including 100% coverage in selected villages.
Narayanan stated that NABARD prepares Potential Linked Credit Plan (PLPs) for each district to map the potential available for development in agriculture and rural sector through credit flow.
He also informed Dy CM that the State level plan for 2017-18 would be discussed in the State Credit Seminar planned to be held on February 17next which will be attended by officials of State and Central Governments, Banks, research institutions and NGOs.
Dy CM appreciated NABARD for providing much needed support especially in building up infrastructure and stated that these will hugely benefits the people of the state.