North East
Shillong- BSF Nabs Two Cattle Smugglers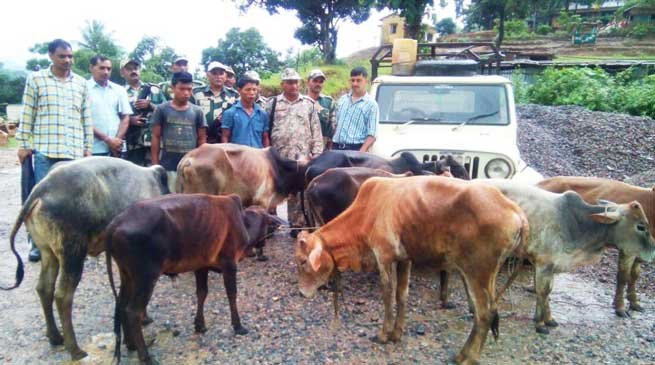 Shillong
This time smugglers failed to give a slip and landed in the net of the BSF troops deployed at Phanda, South Garo Hills district of Meghalaya. On a tip off, On Friday BSF troops apprehended  two Indian nationals Cattle Smugglers namely G. Kichan and Thel Sing, both resident of Vill- Halwatun, Distt- South Garo Hills (Meghalaya) along with a pickup vehicle laden with 08 cattle. Both the apprehended persons were carrying cattle towards the zero line for handing them over to Bangladeshi associates but the BSF troops intercepted them.
The Another party of BSF deployed at Gumaghat recovered 06 Kgs Ganja and 52 Pkts of Biri hidden in a bushy area near the Indo-Bangladesh border fence. Noticining a suspected movement near the International border, BSF troops started searching the suspected area and recovered the contraband items sand foiled one more attempt of narcotics smuggling. Few Bangladeshi nationals were suspiciously moving to receive the Ganja consignment which was supposed to  be thrown over the Indo-Bangladesh Border Fence along with the Biri by Indian smugglers.
In one more instances, the river Simsang in South Garo Hills district HQ, Baghmara once again was being exploited for smuggling of Coal and wooden logs when alert sentinels of border foiled the bid.  Despite of availability of only small rubber motor boat the BSF soldiers one again caught a huge consignment of wooden logs (123.31 CFT), and Coal 06 ton concealed with bamboo rafts from the flooded water.
The BSF effected total seizure more than Rs. 8.6 lacs including above contraband items on Friday night. The BSF has been making sincere efforts to prevent the smuggling of cattle to Bangladesh.There has been sizeable number of cattle seizure in the bordering area of Assam and Meghalaya, since few days. Apprehended person and along with seized items being handed over to concerned department for further legal action.