Itanagar
Arunachal Pradesh Homestay Congress,1st of its kind in India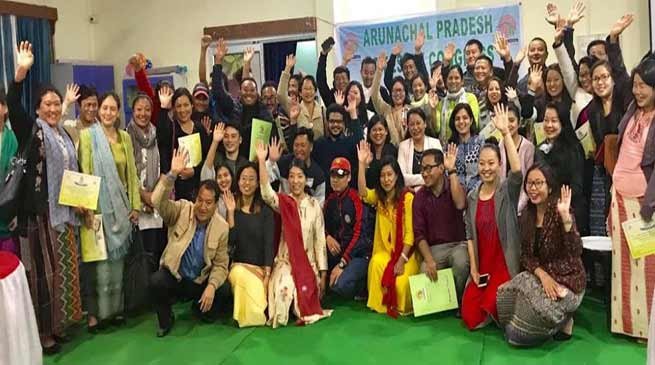 The Congress saw the presence of 74 Homestay owners, 08 Tour Operators, 12 Tourism officials, 09 Resource persons and members of the media.
---
Itanagar
The two days Arunachal Pradesh Homestay Congress, the 1st of its kind in India was inaugurated on 16th of January, 2019 at State Food Craft Institute by Mrs Sadhana Deori,  Secretary Tourism, Government of Arunachal Pradesh.
The Congress saw the presence of 74 Homestay owners, 08 Tour Operators, 12 Tourism officials, 09 Resource persons and members of the media. The Congress being organised by Department of Tourism, Government of Arunachal Pradesh, in collaboration with ACT (Association for Conservation & Tourism) and APSED (Arunachal Pradesh Society for Education & Development) under the coordination of  Raj Basu, Adviser Rural Tourism & Homestays, Department of Tourism, Government of Arunachal Pradesh.
Raj Basu explained that though the Government of India, Department of Tourism promotes Arunachal Pradesh under 'India's Northeast, Paradise Unexplored', it has been necessary for Arunachal Pradesh to create her own brand like that of Sikkim.
Considering the fact that the massive forest cover, mainly primary forests supporting an elaborate river network, Arunachal Pradesh must introduce the process of sustainable tourism development by supporting stakeholder communities who will help in conservation of these rich natural habitats.
He further highlighted that Tourism in Arunachal Pradesh must be locally owned through the currency of Homestays, where balance between Hospitality and Heritage Conservation will be the main effort.
He explained about how the several trainings and sensitization programs in Homestay and Rural Tourism began from the more populated Himalayan foothill areas and then gradually moved upwards to known and lesser known destinations.
He detailed about the trainings delivered in the field level, which included Biodiversity & Destination, Creating local Environment for Tourism, Destination Mapping, Hospitality Terminologies, Product Development, Housekeeping, Food & Beverages with local innovation, Food Safety, Menu Planning, Waste Management and Attitude Development for Visitor reception.
Here experts and resource persons from local to international level have been involved. With full support from the Tourism Department, the trained villagers have been sent for practical study tour to model tourism villages in East Himalaya, especially Darjeeling and Kalimpong Districts in North of West Bengal and Sikkim.
The targeted villages for rural tourism have also been sent to dedicated rural tourism marts. The DTOs (District Tourism Officers) have been also trained at neighbouring areas to understand tourism and heritage conservation at Kaziranga in Assam and also in Bhutan.
For the last one year, a survey of the approved Homestays have also been done with the help of a local resource team, to understand the present status and accordingly generate a gradation system after approval. It has also been realized that River Camps and Jungle Camps established as extension of Homestays also serve the local economy and ecology. It was brought into notice that it was in 2017, during the Paryatan Parv, a "Homestay Owners Responsible Network" was launched with experienced Homestay owner Punya Chada to lead the initiative.
The inputs from the house came from Duyu Tamo of APTOA, Bengia Mrinal of APTOA, Punya Chada of Ngunu Ziro, Owner of Letro Homestay of Sangti, DTO Tatak Ji, S.S.Kar of SFCI and several other delegates present at the congress.
Mrs Bengia Manna Sonam highlighted that presently there are 167 homestays registered with the Tourism Department from particularly few Districts, but now the Department will work more intensively to balance the same by participation of all Districts in the approved circuits of the State.
 She further emphasized that the gradation system will begin soon and the Department will work closely with the industry to increase footfalls in the presently approved Homestays. She also said the Department will work on a Homestay Manual with Travel Tips for the tourists visiting the homestays.
The inaugural session was brought to an end with the concluding remarks of  Mrs Sadhana Deori, where she said that it was wonderful to hear about the success stories of Homestays, she insisted that Tour Operators must handhold the Homestays, any kind of subsidy in regard to Homestays will now be targeted to lesser developed Districts, the state Government will encourage setting up of more camp sites and adventure related activities, tourist season is only limited and hence agro based tourism activities to be increased to include harvesting seasons too, there should be more marketing to attract domestic tourists to Homestays and she highlighted that there are special grants for women entrepreneurs in Homestays.
Mrs Sunwana Mungyok, HOD of RG Government Polytechnic College highlighted the need for proper feedback system from tourists, security for tourists, register every guest and keep a guest history to share with the members of Homestay network and Homestays must not be Government dependent for promotion, but use social media.
R.K.Misra,  Lecturer of  Tourism at RG Government Polytechnic explained about Homestay definition and emphasized on the peaceful environment of homestay as the priority. Cleanliness must be made an essential component of hospitality through homestays.
Mudang Tagiya of RG Government Polytechnic spoke on the reflection of local traditions and values through Homestays as a priority. Local Food must be the USP of every destination and a Photostat handmade map may make things easier for the visitors.
Mrs Likha Kiran of SIRD shared her experience of Sri Lanka and insisted that hospitality ownership should be left to locals with trainings to include local traditions innovatively. Government should look into good road connectivity, electricity, water source and security.
The Tour Operators and Tourism Officers also gave several inputs for updating the present Homestay policy. Finally,  Mrs Bengia Manna Sonam summed up the day by highlighting the flagship "Chief Ministers Paryatan Vikas Yojona" and thanking all present on the day and sharing their views on updating the Homestay policy.
This was followed by a meeting of the DTOs and TIOs, where the initiative of "Adopt a Village for Sustainable Tourism" in every District was discussed, which would be remote and less touched by any development. The target of declaring such intensions was scheduled for the National Tourism Day.
The second day was targeted for market linkage of Homestays. Here it must be cleared that globally reputed online platform, Airbnb was invited . Sagar Deoskar, Mrs Pooja Srivastava and Mrs Christina Biswakarma from AirBnB at the HQ attended the 02 days Congress.
They shared the details about Airbnb and provided hands-on training in how to use their online platform. Every little detail was explained by the Airbnb officials. Further inputs by all present were included for market linkage and promotion of Homestays.
The 3rd Day, was a brainstorming workshop among the members of Tour Operator Association, Transport Associations and Hospitality Associations with the Team of officials from the Tourism Department, led by Mrs Bengia Manna Sonam.
The concept of "Friends of Arunachal" was discussed on this day. The example of Roing with the opening of the Bhupen Hazarika Bridge, the Bandh at Dirak during the Parshuram Pilgrimage and several issues were discussed. It was felt that for better people to people relations and more footfalls for Homestays, there should be an initiative at the main towns, cities and junctions in Assam, where a campaign of "Friends of Arunachal" must be launched as a tourism initiative.
The members of the associations confirmed active participation and expressed that this initiative should be used as special branding for the tourism of the state and used in trains, tourists vehicles etc. The members said that all the media should be included as a partner in this campaign and that a committee be formed for the purpose.