National
Rohingyas are illegal immigrants "will be deported" – Rajnath Singh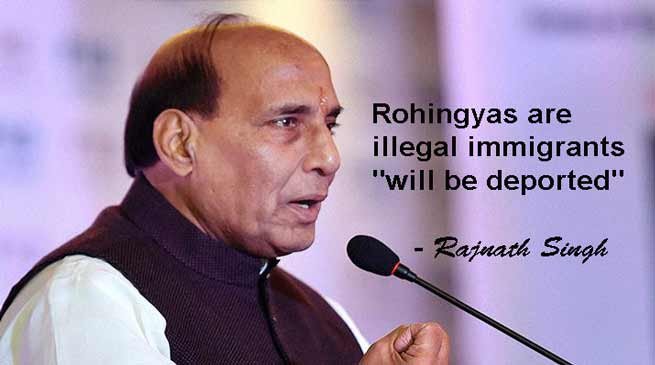 New Delhi
Union Home Minister Rajnath Singh on Thursday said Rohingyas are illegal immigrants who "will be deported".  Mr Singh said that Rohingyas who have entered India from Myanmar should not be mistaken as refugees because they are "illegal immigrants" who need to be sent back due to national security reasons.
Addressing a seminar organised by the National Human Rights Commission (NHRC), Singh asked why some people were objecting to the deportation of Rohingyas when Myanmar was ready to accept them.
He said India would not be violating any international law by acting against illegal immigrants as the issue was related to India's national security.
"The Home Ministry has clarified its position through its affidavit (in Supreme Court) that these are illegal immigrants and they will be deported. The Rohingyas are not refugees.
"No Rohingya has got asylum in India nor anyone has applied for it. They are illegal immigrants," he said.
The NHRC recently issued a notice to the Centre over its plan to deport Rohingyas, who live in various parts of India.
The government told Parliament on August 9 that more than 14,000 Rohingyas, registered with the UNHCR, stay in India.
However, India had provided humanitarian assistance to Rohingyas living in Bangladesh, which was also affected by the illegal immigration of Rohingya, Singh said.
On September 14, India sent 53 tonnes of relief material to Bangladesh for Rohingyas, who poured into that country following the violence in Myanmar.