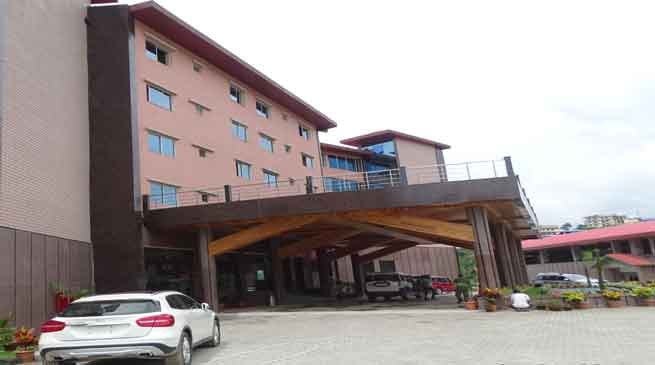 Itanagar
One Papung Nayu, aged around 32 years, a permanent resident of Hari Nablen village under Pipu Circle of East Kameng and presently residing at Polo Colony was found dead in the lawn of first floor of  Hotel Waii International here  early morning on Saturday.
The Itanagar Police sources said that Papung Nayu, a businessman by profession was occupying the room No-311 in the hotel since June 20 and today there were two more friend in the same room who were sleeping before entering the room as per CCTV footage.
The deceased who come to hotel after a party in the town in influence of alcohol in the wee hours. The police on getting information found that the body was found lying in lawn of the 1st floor and there was sign of injury on backside of the head skull while blood was seen though nose and ear and a case of unnatural death have been registered at Itanagar Police Station vide Case No-06/17 u/s 174 CRPC.
The body was taken into custody and post-mortem conducted at TRIHMS, Naharlagun and body has been handed over to the relatives for conducting last rites the sources said.
The police sources said that the body was found at around 7 AM by a hotel boy who went there for cleaning purpose.
Police said that other friends have also been interrogated who claimed that they were drunk   and went off to sleep. They also claim that they found about the incident only after the body was discovered in the morning.
Meanwhile City SP Tumme Amo said that investigation is being done from all angels to ascertain the exact cause of the death. All personal belongings have been taken into custody for investigation, Meanwhile the CCTV footage is being verified and the investigation is also being done at Pong Nest Bar where they were in party till late night.