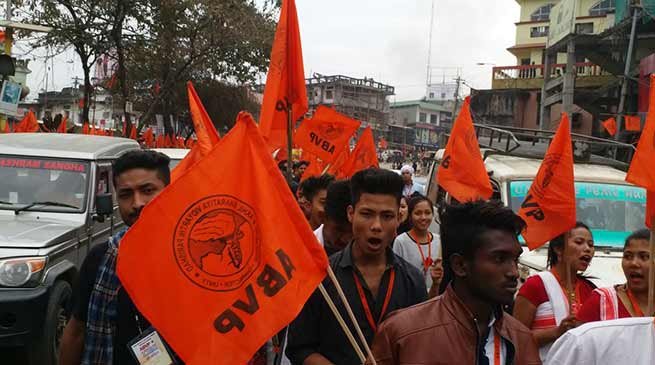 Itanagar
Akkhil Bharatiya Vidyarthi Parishad (ABVP) today organised a public meeting and interacted with the common public of capital and appeal them to remain alert and stay away from all evil forces which divide people from people.
The on going 5th state conference of the organisation is being held at Jullang in the campus of the Himalayan University which shall concluded tomorrow.
Addressing the huge gathering of delegates and local people at Ganga Market here ABVP all India media Incharge Saket Bahuguna said that Arunachal Pradesh being the land of rising sun and the people here are innocent with patriotism in mind should remain alert from all divisive forces who tried to divide them. The tradition and culture are unique and need to be preserved and appeal one all to maintain the traditional and cultural value and tribal identity and maintain the glory of the land bounded by China.
State President Ajin Taboh said that we people need to remain united and shoulder responsibility in the development of area, district, state and nation. He said that united we stand divided we fail and we first complete the academic career and later went to serve the society which is the need of the hour in the modern world.
Several students leader of the organisation spoke on various issue like Lohit District Coordinator Siramso Pul spoke on Drug, State Secretary Jakap Lukham spoke on Education scenario of state, District Coordinator Tame Siyang spoke on  Tribal Harmony, Vikash Rava spoke on Unemployment problem and opportunity.
5th state level conference Organising Chairman Tana Nekam, General Secretary Nyanya Gollo and a huge gathering were present on the occasion.
Earlier a Sova Yatra  (cultural rally) was organised from 0 Point Tinali to Ganga Market which was attended by thousands of volunteers and students delegates who come to attend the conference from various district of state. Mostly the delegates were in different traditional dress representing the different ethnic groups and community of state.