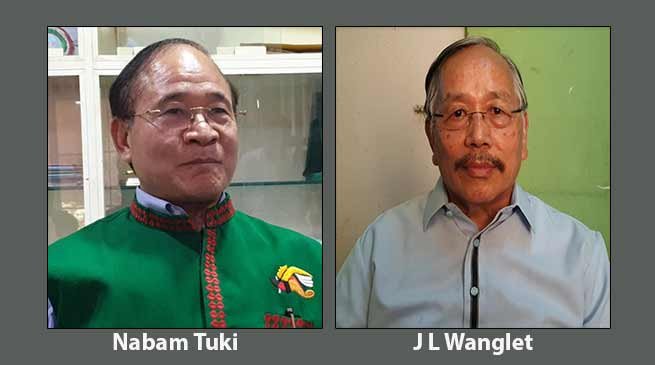 Itanagar
Former Chief Ministers Nabam Tuki is going to Contest in both Lok Sabha and Vidhan sabha seat in upcoming simultaneous State election while former Home minister J L Wanglat is ready to contest from Arunachal East parliamentary constituency.
Speaking to media person here at his resident today, Nabam Tuki said he was not prepared for upcoming parliamentary election so he did not applied for party  ticket but through media source I come to know that  may name has been selected for Arunachal Western MP seat.
I will be contest both the seat because I have to follow the Congress high command order because number is require to National Congress President Rahul Gandi to became Prime Minister of India. And this is the Rahul Gandhi decision that former Chief Minister are to contest in MP election he added.
Development, protection of indigenous people's right, welfare of the people is may agenda, Tuki said and he will work always for the protection of Arunachal Pradesh and people know me and my works, Tuki said.
And express concern over the recent incident which was happen in state capital he said that we have to rectify such kinds of incident which are not in the interest of the indigenous people.
Watch Video 
Further Tuki also assumed he will be try to full fill every assurance which was made by him earlier and he also assured they will try to full fill all point of Congress Manifesto which is going to launched very soon.
Former Home minister and INC candidate from 2 Arunachal East Parliamentary constituency James Lowangcha Wanglet while talking to the media said that  I have lots of work to carry for the welfare of the people, to increase the livelihood condition of people and ensure for appropriate funding for development of infrastructure.  Starting of Act East policy, opening of Phangchao pass and increase for border trade with south east Asian countries, though there is a small unit of custom there which need to upgrade into a full pledge route for development o border trade. To revisit the state hood act where the indigenous people should be owner of our own land, water and jungle and other products like of Mizoram. Wanglet said.
Elaborating his experience of more than fifty years of service to the people and as legislator for twenty years and cabinet minister and have hope and assured to fulfilled the aspiration and expectation of the people of the constituency and state. he said.
Though there are as many candidate in fray, I am a clean man and without any spot on character and hope that the people may support and hope for a comfortable win. Wanglat added.