Itanagar
Itanagar: Khandu inaugurates festival ground of the Aka-Miji community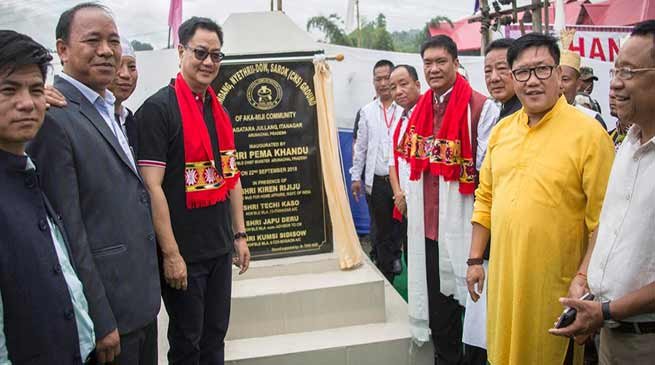 CM Pema Khandu congratulated the Aka-Miji community for acquiring a festival ground for celebrating the festival of Chindang, Nyethrii-Down and Sarok.
---
Itanagar
Chief Minister Pema Khandu today inaugurated the festival ground of the Aka-Miji community here at Jullang in presence of MOS Home Kiren Rijiju, Home Minister Kumar Waii, Advisor to CM Japu Deru, MLA Itanagar Techi Kaso, Thrizino MLA Kumsi Sidisow, Seppa MLA Mama Natung, Raga MLA Tamar Murtem and other dignitaries.
The Chief Minister in his speech congratulated the Miji-Aka community for acquiring a festival ground in the state capital for celebrating the festival of Chindang, Nyethrii-Down and Sarok. He thanked the land donors of the festival ground and offered to extend all possible help for building of infrastructure in the ground. He expressed happiness that the festival ground will also be used by Sartang and Bugun community to celebrate their festivals and for other social activities.
Exhorting the community on preservation of culture and tradition, the Chief Minister said that Arunachal is very popular in terms of tourism for its rich cultural heritage and natural beauty. He said tourists come to Arunachal looking for authentic local lifestyles, customs and culture and not for superficial lifestyle. He informed that tourists inflow in the state per year has risen from 3 lakh to 9 lakh in the
last six years.
Khandu said the Team Arunachal government is taking every measures to preserve the indigenous arts, craftsmanship, dialects, clothing through the newly created Department of Indigenous Affairs.
He further said Arunachal is poised for astounding reforms in the coming years to bring equity, fairness and efficiency in the system with think tanks working round the clock behind the curtains. The Chief Minister said reforms so far such as administrative decentralisation, creation of Staff Selection Board, recruitment of Group A/B govt employees through independent commission, empowering of Deputy Commissioners, conduct of Jan Sunwai Sammelan, special focus on education, health and Agri sector through independent resource allocation at district level is sure to bring good days ahead.
Earlier Kiren Rijiju, Kumar Waii, Techi Kaso, Japu Deru, Kumsi Sidisow, former Executive Engineer Tarh Hari also spoke.